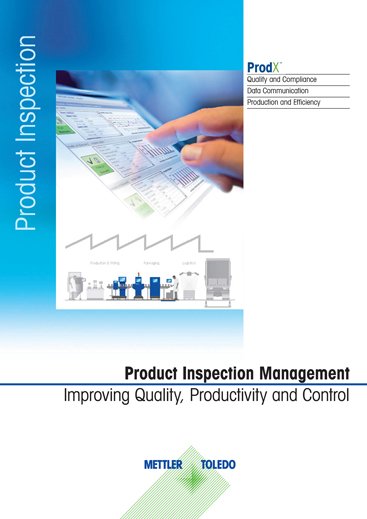 ProdX™ Software Brochure
ProdX™ is a PC-based client server solution which monitors and manages data collected from METTLER TOLEDO product inspection devices. It supports and maximizes rigorous quality control regimes, drives production optimization and simplifies production line operation.
Click on the link below to download the brochure
---
Helping you manage Quality and Compliance
ProdX™ empowers Quality Managers to actively take control of business critical quality requirements and meet global and local compliance needs. It significantly cuts administrative effort in reporting on compliance for all current food safety standards and retailer audit requirements.
Helping you manage Data Communication
ProdX™ provides IT Managers with a data network connectivity solution designed to keep pace with the latest technological advances. Its full integration capability with MES/ERP systems, using the latest communication protocols, eases maintenance requirements and fully supports smart factory initiatives.
Helping you manage Production and Efficiency
ProdX™ enables Production Managers to maximize process efficiency and increase productivity. It significantly reduces complexity and sources of error caused by multiple operating systems and proprietary machine software.
---