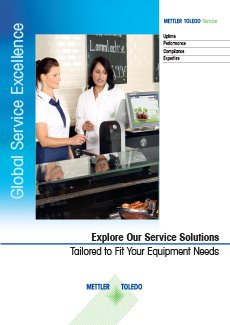 Retail Service Competence Brochure
Ensure Uptime, Increase Performance

METTLER TOLEDO Service understands what it takes to suit your specific ­business needs. Benefit from the experience of the market leader and ensure optimal equipment uptime, performance, compliance and the expertise necessary to maximize your investment. These pillars of our approach take METTLER TOLEDO to the next level in service far beyond the competition.
METTLER TOLEDO Service offerings cover your equipment's complete life cycle. Our goal is to maximize the efficiency and productivity of your operational processes. Find out more about how our tailor-made service offerings can add value to your business operations. Learn about the following service offerings:

Repair Services


Calibration Services


Installation Services


Training Services


Professional Services


Software and Remote Services

Fill in the fields below to download your free copy of the Retail Service Brochure. 
Service When You Need Us Most
METTLER TOLEDO offers support and repair services to ensure that your weighing equipment meets the demands of business. 
Ensure compliance with government regulatory standards by partnering with a vendor who understands and anticipates these requirements.