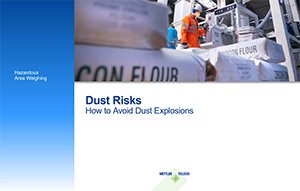 how-to-avoid-dust-explosion
This quicknote serves as a resource to help you avoid the explosive potential of dust by working to:
provide you the facts and details on dust risks,
help you understand the consequences of a dust explosion in your production facility, and
take suitable steps to minimise dust explosion risk.
In hazardous areas, flammable vapors are a safety risk, but dusts might be an even bigger hazard. Learn dust-risk facts and what to consider when selecting equipment for Zone 21 & 22. Powders or dusts are often either used in or generated as a byproduct of chemical, pharmaceutical, food and other manufacturing processes. A majority of dust-like substances pose the danger of fire or possibly even explosion—and many operators and production managers are not aware of the risk.
Dust Poses a Danger
A large number of  dusts are combustible. Even a dust layer of 1 mm in a closed room is sufficient to trigger an explosion if dust is disturbed and subsequently ignited. These facts, in combination with a lack of  awareness of the danger of dust, underlines the importance of working to educate operators on the danger of dust and prevent dust explosions.
Avoid Dust Risk
Simple measures such as selecting electrical equipment that is approved for use in Zone 21 or 22 according to the latest hazardous-area standards and regulations by ATEX, IECEx and FM reduce risks significantly. Putting the right organizational steps in place such as cleaning and removing dust regularly and monitoring and maintaining equipment are a must.
Safe Weighing Processes
Intrinsically safe weighing equipment is ideal for weighing in hazardous areas because it keeps the entire system safe (independent from the weighing application). Intrinsically safe technology prevents explosions by ensuring that the energy transferred to a hazardous area is well below the energy required to initiate an explosion. Therefore, intrinsically safe systems allow equipment to be used without risk of igniting any combustible dusts or fibers that may be present in hazardous areas.