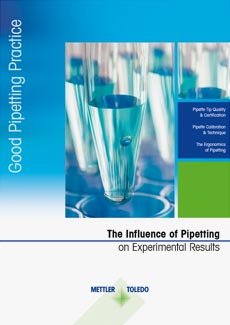 Influence of Pipetting on Experimental Results guide
From academic labs involved in leading edge discoveries to testing labs that follow routine standard operating procedures, the data generated can be greatly influenced by the performance of the pipette and the technique of the user.
Pipette performance is a function of many factors, including keeping the pipette well maintained in order to achieve the desired performance and periodically checking to ensure that it meets the desired specifications. The other major factor, technique, requires users to develop their pipetting skill, such that maximum performance is routinely achieved and data is reliably produced
You don't have to look very hard to find many papers full of 'hints and tips' about the importance of maintaining pipettes in good condition. It's also easy to find guidelines on 'correct pipetting techniques'. All of these stress the role that the pipette can play in the success or failure of experimental results.
The Influence of Pipetting on Experimental Results guide looks into several factors influencing research outcome in life science laboratories. The guide offers tips & tricks in the following fields:
Pipette tip quality & certification
Pipette calibration & technique
The ergonomics of pipetting
How you pipette directly affects the success and repeatability of your experiments. Use the Good Pipetting Technique poster to improve your pipetting accuracy.
*The product is intended for research and Quality control purpose only. 
---
Download The Influence of Pipetting on Experimental Results guide.
Influence of Pipetting on Experimental Results guide
Measurement Tips and Hints, Electrodes and Sensors pH and Conductivity
Editorial:
Pipettes are the workhorses in the laboratory. Together with tips and the operator, they form a system that influences the accuracy, precision and repeatability of experiments.
While there are many publications on the influence of proper handling and good pipetting technique on the quality of results, the influence of pipette tips commonly receives lesser attention. We will give an introduction into the topic and provide detailed advice on what to look for when choosing a good pipette tip, i.e., a tip that does not influence the experiment's results.
We will also look at the impact that service, e.g. pipette calibration as well as pipetting technique of the operator have on experimental results. Last, we will look at pipette ergonomics, and how these influence the operator directly, for instance in the form of Repetitive Strain injuries (RSI).