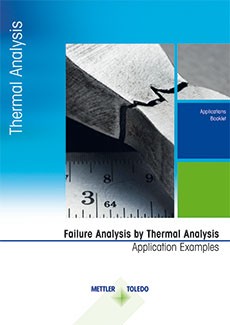 materials failure analysis
As manufacturing industries are ramping up production, the need for reliable materials failure analysis is continuing to rise.  For this, thermal analysis (TA) encompasses a wide range of techniques to assess the quality and performance of a component, assembly, machine or process. Combined with powerful software solutions, material characterization by thermal analysis provides data for pass/fail decisions to assure produced goods meet required quality standards.
Materials failure analysis by TA
METTLER TOLEDO's TA and evolved gas analysis (TGA-EGA) systems provide the relevant information needed to identify the issue causing a particular failure. We hope the applications described in this guide will make you aware of the advantages and capabilities of the various thermal analysis techniques for failure analysis, while providing you with useful tips and hints.
Table of Contents
1. Where Thermal Analysis Can Be Used for Failure Analysis
2. Applications and Their Thermal Analysis Techniques
3. Examples
3.1 DSC – Analysis of a broken cable holder
3.2 DSC – Identification of thermoplastic polymers
3.3 DSC – Failure analysis of adhesive bonds
3.4 TGA/DSC-MS – Identification of non-wanted compounds in an API
3.5 DSC and TGA – Root cause of plain bearing failure
3.6 DSC – Analysis of a defective polyamide automotive part
4. Measurement Errors and Uncertainty of Measurement
5. Method Development and Validation
6. Instrument Calibration and Adjustment
7. Excellent Crucibles, Accessories and Reference Materials
8. For More Information