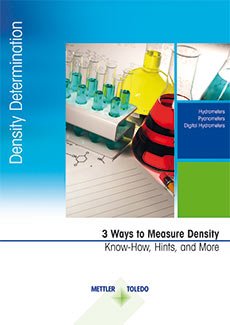 density measurement
Density is a physical property that can be used as a unique identifier of liquids, allowing users to monitor the quality of their products and processes. Such process and quality controls require precise methods to ensure accurate results in density measurement.
Hydrometers, pycnometers, and digital hydrometers are officially recognized for use in the density determination of liquids. Most times, the recording of information such as date, calibration, and temperature are also required. Choosing an appropriate measurement method depends on a few factors, such as sample type, accuracy of the instrument, time taken per measurement, and the level of user training required. Measurement accuracy and compliance to any relevant standards and internal requirements can be guaranteed via periodic calibration checks of the selected instrument.
This guide covers these three ways to measure density to help you decide which method is the best for your products and processes, including the following topics:
How to choose your hydrometer, pycnometer, or digital hydrometer
How to use your instrument
Calibration of your instrument
Tips and hints
Relevant standards and norms
Download the guide to learn about measurement with hydrometers, pycnometers, and digital hydrometers, as well as how to achieve maximum accuracy with an optimized workflow.