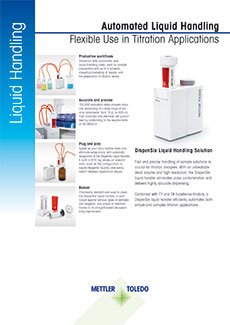 Datasheet of DispenSix Liquid Handler
Fast and precise handling of sample solutions is crucial for titration analyses. With an unbeatable dead volume and high resolution, the DispenSix liquid handler eliminates cross contamination and delivers highly accurate dispensing. DispenSix fully automates your liquid handling tasks, such as sample preparation with up to 4 liquids, aliquoting /sampling of liquids, and the preparation of dilution series.
Combined with T7 and T9 Excellence titrators, a DispenSix liquid handler efficiently automates both simple and complex titration applications.