Filling is always a trade-off between following net-content
legislation and reducing the overfilling to the minimum. But
should an operation really have to choose? We don't think so.
With accurate weighing you are able to catch and correct filling errors
before it's too late – giving you peace-of-mind that your operation
is compliant, without costing you tons in overfilling product loss.
Our White Paper explains how.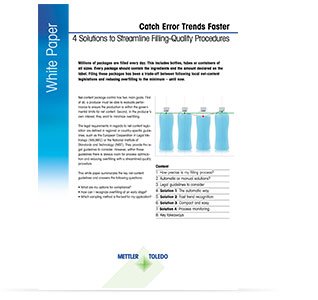 Why use SQC Solutions?
Statistical quality control has two main goals: First of all, a producer must be able to evaluate performance to ensure the production is within the regulatory limits for net content. Second, SQC efforts must satisfy the producer's own interest by minimizing overfilling.

This White Paper describes 7 key considerations including 4 solutions for filling processes that allow producers to catch error trends faster while remaining compliant.
For more detail on our SQC offering, visit the application page.
How can I optimize my filling process?
Filling applications run a fine line between meeting legal regulations for filling standards, and not overfilling to the point of profit loss. Many operations feel the need to slightly overfill each container to ensure they are not illegally underfilling. But this practice can end up costing thousands in product give away. Our white paper 'Catching Error Trends Faster' summarizes the key net-content guidelines and answers the following questions:
How do I comply and recognize overfilling at an early stage?
How often should I take samples to gather enough data to optimzie my process?
Which solutions work best for a fast trend analysis based on statistical analysis?
Watch the video for a quick overview!
How can I recognize overfilling at an early stage?
When manually entering sampling results in a system, a trend analysis of the filling results may come too late. Statistical quality control solutions deliver prompt feedback on the actual filling process and can immediately  inform operators to react and adapt the process.

What legal regulations should be considered for product filling?
On a global basis, two major guidelines regarding packaging goods are dominant: the WELMEC (Europe) and the NIST (USA) guidelines. 

How does automatic checkweighing help my filling process?
An automatic checkweigher is operates with dynamic checkweighing principles and the primary value is 100% sampling. It classifies the items by preset weight zones and ejects or sorts them automatically. It is typically used for high speed checkweighing.

How does SQC software help my filling process?
A manual SQC solution is a cost efficient solution to control your filling process within a defined tolerance range. It reduces overfilling costs, ensures compliance to regulations  and automatically provides statistics for further process optimization. 

What sampling method is best for my filling application?
The choice of checkweighing systems or a static scales on a production line is usually dictated by application requirements, economic factors and the need for process data. Our white paper "Catch Error Trends Faster" provides an overview on the full range of SQC solutions, starting from basic manual solutions to fully automated checkweighers.