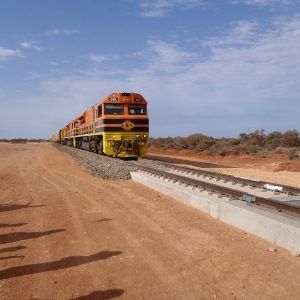 Massive Scale Weighs Four Rail Cars Simultaneously
To ensure the safety of its heavy rail transport, a mining operation in Australia needed more than a standard rail scale. For maximum efficiency, this special project required a scale that could weigh four rail cars at once.
In southern Australia, huge mining operations can be located in very remote locations. The iron ore mined there is transported by rail to processing centers far away. To cover the vast distances, these heavy trains travel at high speeds across the Australian Outback.
Heavy trains at high speeds can be a dangerous combination. In addition to safety concerns, the cost of a derailment could easily be more than $1.5 million. It is imperative that the rail cars are loaded as evenly as possible to ensure the stability of the train.
To establish a balanced load, each rail car is loaded in a two-step process. They are first filled with a basic volume. Then, the train moves the cars down the track to a secondary loading station. Here, the cars rest on a scale that lets the operators trim each car to its necessary weight. This scale is actually composed of four individual scales, letting the operators make adjustments to four cars at once to maximize throughput.
Although the company looked at numerous competitive proposals to provide the weighing system, they ultimately trusted in METTLER TOLEDO. Having completed numerous static and dynamic rail weighing projects in the region, the project team knew that METTLER TOLEDO was up to the challenge. Additionally, these scales could then be equipped with POWERCELL® PDX® load cells—the premier load cells for demanding applications.
Critical weights, high speeds and remote locations all add up to a challenging project. According to the customer, METTLER TOLEDO offered the professionalism and knowledge to be perfect for the job. With global expertise in industrial weighing, METTLER TOLEDO vehicle weighing systems earn success in complex projects.