A top chef, Max Eichmann, serves French cuisine with molecular accents in his restaurant in Switzerland. One of his many triumphs is a fruit juice caviar. To prepare this delicacy, he has been putting his trust in Rainin multichannel pipettes from METTLER TOLEDO for over a decade now.
Rainin pipettes have proven to be an indispensable aid in Max Eichmann's kitchen.
Max Eichmann's restaurant boasted 18 Gault Millau points and a Michelin star up until 2003 when he decided to take a step back from the hustle and bustle of the gourmet kitchen and lend his hand to a new concept altogether. "I started to wonder whether the guests in my restaurant really wanted to eat seven courses along with three or four amuse-bouches. Many of them were overwhelmed with that. It was then that I decided to contact Gault Millau and Michelin to inform them that I no longer wanted the restaurant to be assessed," explains the top chef. Fresh, high-quality cuisine is what Max Eichmann wanted his guests to rave about – but without the added pressure of meeting restaurant critics' stringent assessment criteria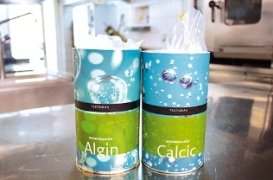 GleN_Team_3601_chemical_additives
Chemical additives, such as alginate and calcium chloride, are key components in molecular cuisine.
In search of innovations

During this new phase in his career, Max Eichmann also started to experiment with molecular preparation methods, in particular, his first apple caviar. In order to recreate its special consistency, he drizzled a mixture of fruit juice and alginate into a bowl with calcium chloride. "To start with I used single pipettes. Although, as you may expect, this proved quite a tedious process and hours passed before I produced a single portion," comments Max Eichmann. "Caviar is a product which needs to be prepared on a smaller scale. It has to be consumed relatively quickly, as otherwise the globules become too hard."
This is exactly the reason why he needed to find a more simple solution for preparing his caviar. An acquaintance from the medical technology industry suggested multi-channel pipettes, and with a quick online search Max Eichmann found METTLER TOLEDO . "When I placed the order for the pipettes, the saleswoman was rather surprised," recalls the head chef with a chuckle. "They had never delivered such a product to the catering trade before." Eichmann's investment in the Rainin 8-channel pipette has been worth its weight in gold. He has been using the device for over ten years now and is particularly impressed with its intuitive handling – not to mention the exquisite taste of the apple caviar. "You could say why not just eat an apple instead of caviar. But then you would run the risk of biting into an unpleasant mealy apple and getting it stuck between your teeth. When it comes to caviar, the apple taste is virtually perfected. That's all thanks to its molecular structure," explains Eichmann.
Molecular and French cuisine

There was a time when the top chef offered his guests entire molecular menus; nowadays, however, this is just one element of his cuisine. Indeed, the fruit caviar and the "Snowball" (a yogurt produced with nitrogen) have become firm favorites on the dessert menu. But when it comes to appetizers and main courses, Max Eichmann tends to stick with the more traditional French cuisine. Particularly important here is a range of high-quality produce and seasonal menus. In May, an asparagus salad can be found on the menu, whereas in the summer months it is wild salmon. Eichmann doesn't intend to reinvent cooking. He just wants to offer diners something delectable each time they open the menu.

Max Eichmann uses nitrogen to entertain his guests. In the comfort of his own home, he enjoys more traditional dishes, with calf's liver and hash brown potatoes being his favorite.
The "Snowball", produced from yogurt and quark, is one of the molecular specialties on the restaurant's menu.
Continuous improvement

Training the next generation of chefs and developing one's own skills further are what truly matter to Max Eichmann. "When my apprentices leave my kitchen, I tell them not to believe that they can really cook! There is always room for improvement and lots to learn." Learn more about multichannel pipettes here.
Note: Max Eichmann retired in 2017. While the topics of the article are intriguing and still provide context into the use of pipettes in the culinary world, he is no longer an active chef.
Download:
Download the interview with Max Eichmann
(pdf - 244 KB)