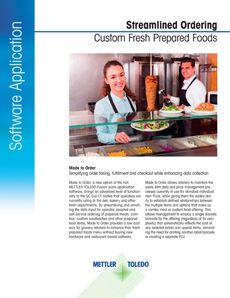 Made to Order Software Application Note
Simplifying order taking, fulfillment and checkout while enhancing data collection

Made to Order accomplishes precisely what its name implies. It provides customers in quick-service/prepared food retail locations with the customized – or standard – combination meal they want, and gives retailers all of the data necessary to operate with greater efficiency, proactivity and profitability. As an option of Fusion 5.1 (or above) software, it is compatible with METTLER TOLEDO UC Evo CT scales.
Made to Order allows retailers to maintain the same item data and price management processes currently in use for standard individual item PLUs, while giving them the added ability to establish defined relationships between the multiple items and options that make up a combo meal or custom food offering. This allows management to employ a single discrete barcode for the offering (regardless of its complexity) that automatically reflects the cost of any selected extras and upsold items, eliminating the need for printing another label/barcode or creating a separate PLU.
METTLER TOLEDO Fusion scale application with the new Made to Order functionality addresses the changing, challenging landscape faced by grocers and other food retailers today – how to offer a diverse selection of fresh prepared meals without inviting a blizzard of bookkeep - ing complications. Enabling the Made to Order option to your Fusion scale application offers fresh meal sales associates a userfriendly interface to customize orders, transforming your service counter into a Quick Service Restaurant. With the capability to select or deselect condiments, substitute side dishes and offer upgrade items, the advanced software inputs all details for optimized inventory tracking and increased profitability.
Eliminates confusion for customers by providing consolidated, detailed, accurate meal ticketing
Provides complete tracking information for all meal components with a single barcode
Enhances opportunities for upselling with on-screen prompts and easy keying
Simplified yet comprehensive data stream improves sales reporting
Allows retailers to offer more diverse menu options while ensuring correct pricing