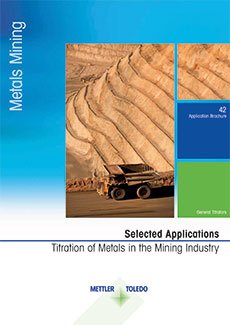 This collection of titration analyses for metal content determination represents a comprehensive reference manual for the main applications in the mining industry.
Thanks to their different properties, metals play an essential role in our current civilization. The mechanical stability of skyscrapers, electricity generation and conduction, and production of ammonia (from nitrogen and hydrogen) or polymers (from ethylene or propylene), are examples of the economic relevance of metals and alloys in society.
Metals are gained after a long and energy-consuming mining process, at the end of which the pure metal undergoes further modifications according to its final use. The determination of the metal content is required at different stages throughout the entire chain of metal mining.
Titration is the method of choice for metal content determination. Titration analysis, compared to other common analytical methods, allows not only an initial analysis about whether the mining process is economically viable, but also to establish its efficiency and safety, as well as to evaluate the quality and purity of the final products.
METTLER TOLEDO has developed an exhaustive collection of metal titration applications for the mining industry. Each application procedure, from the instruments used and calculations performed to waste disposal is described in detail, with the aim of supporting your daily titration workflows.