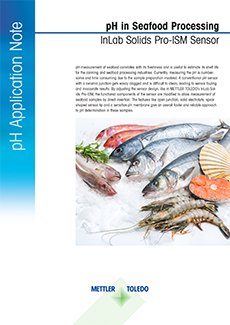 pH of Seafood
Measuring pH of seafood is crucial as it correlates with its freshness and is useful to estimate its shelf life for the canning and seafood processing industries. The average pH value for fresh seafood is 6.2, though it may vary according to the type of fish. Scientific studies found direct correlation between the pH and freshness of seafood. The study found the pH of frozen seafood ris­ing after it crossed the expiry date mentioned on the product's package, indicating the onset of spoilage. The canning industry needs the pH informa­tion of the fresh seafood for efficient canning. The pH of seafood is recorded throughout to maintain batch consistency.
Measuring the pH in seafood is challenging and time consuming due to the sample preparation involved. A conventional pH sensor with a ceramic junction gets easily clogged and is difficult to clean, leading to sensor fouling and inaccurate results.
Read this application note on seafood to know about the sensor that is suitable for measuring pH of seafood.