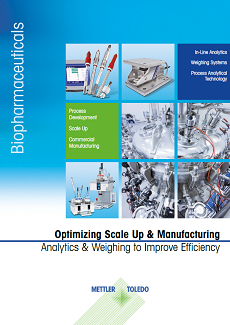 Biopharmaceutical Manufacturing Guide
Biopharmaceutical manufacturing at commercial scale requires the ability to see, understand and make quick decisions on critical process parameters. This guide covers the role of analytics and weighing in understanding these parameters in upstream and downstream process steps.
This guide discusses how the right tools to monitor and understand your biological process, from process development to full-scale manufacturing, help optimize productivity while minimizing time-to-market.
The Biopharmaceutical Manufacturing Guide discusses the importance analytics and weighing related to:
Media & Buffer Preparation
Process Development, Characterization & Scale-up Studies
Commercial Fermentation & Cell Culture Operations
Separation, Harvest & Clarification
Purification & Bioconjugation
Formulation, Fill & Finish
 
METTLER TOLEDO's Biopharmaceutical Manufacturing Guide covers a wide range of in-line analytical solutions, automated reactors and in-situ analyzers, and industrial weighing equipment that is designed to help ensure efficient manufacturing at key upstream and downstream process steps.
For cell culture and fermentation processes, METTLER TOLEDO highlights how key parameters including pH, dissolved oxygen and dissolved conductivity play a key role in managing productivity and quality attributes, and how effects seen on a small scale reactor can be dramatically amplified at a large scale. METTLER TOLEDO provides a range of analyzers and sensors for direct measurement of these parameters in bench and commercial scale bioreactors, including pH & ORP sensors for bioreactors, optical dissolved sensors and an in situ dissolved CO2 sensor.
By collecting highly repeatable analytical data at regular intervals throughout each experiment, scientists and engineers get the best understanding and complete investigations in less time. Obtaining accurate and frequent samples from bioprocesses reveals fundamental insights and leads to quick, well informed decisions.  METTLER TOLEDO offers automated workstations, in-situ spectrometers and particle size analyzers to support in gaining this understanding.
For weighing throughout your pharmaceutical manufacturing process, from bioreactors to filling lines, METTLER TOLEDO offers a comprehensive portfolio of weighing platforms, smart sensors, and transmitters able to endure rigorous cleaning protocols and reliably deliver the weighing precision required to help you produce every batch correctly.