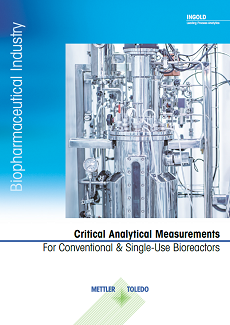 Process Analytics in Bioprocessing Guide
Trends in biopharmaceutical production and bioprocessing mean that pharmaceutical manufacturers require both flexibility and consistency in their R&D, scale-up and production processes. Analytics play a key role in optimizing yield during scale up, whether in conventional, rigid wall bioreactors or in single-use bags. This guide details METTLER TOLEDO's approach to providing a range of sensors that meet bioprocessing requirements from R&D to production, and on a wide range of different reactor types, including benchtop bioreactors, stainless steel reactors and single-use bags.
Topics covered in this guide are:
Process Analytical Solutions in Bioprocessing
Intelligent Sensor Management for Pharmaceutical Production
Scalability from R&D to cGMP for Stainless Steel and Glass Reactors
Reusable Sensors in Benchtop Bioreactors
Accuracy and Consistency in Production Bioreactors
Multi-Use Sensors for Single-Use Bioreactor Bags
Measurement Performance in Single-Use Format
Our product portfolio for bioprocessing includes sensors for process variables such as pH/ORP, optical dissolved oxygen, dissolved CO2 and optical density, and feature Intelligent Sensor Management (ISM®). This innovative, digital technology for in-line process analytical systems simplifies sensor handling, enhances measurement integrity and reduces sensor lifecycle costs.
All ISM multi-use sensors demonstrate proven measurement performance and high toleration of autoclaving cycles. Our high measurement accuracy and reliability is also available in single-use format. Full compatibility with standard transmitters enable seamless integration of METTLER TOLEDO single-use sensors into existing process control architectures.
METTLER TOLEDO Ingold's process analytical measurement solutions have been widely recognized for over 70 years, and have made an indelible mark on the bioprocessing industry. Our in-depth knowledge of bioreactor design and control strategies and our understanding of the challenges faced in modern pharmaceutical manufacturing, has made us a leading and trusted supplier in the quest for greater process stability and batch-to-batch consistency.
Read more about METTLER TOLEDO's process analytics in bioprocessing by visiting: