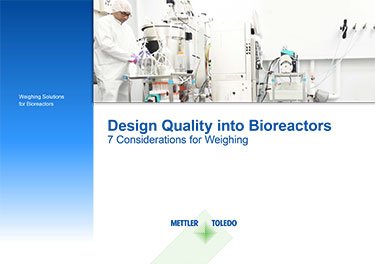 7 weighing considerations for bioreactors Quick Note
Bioreactions are highly sensitive, and mistakes can be costly – for this reason utilizing quality processes is key. 
Setting up a bioreactor according to Quality by Design principles ensures ideal conditions for cell growth and better yield of valuable biopharmaceuticals. Read on to learn about the key factors in weighing for setting up a seamless bioreaction process.
This eBook explains how modern weighing sensors help to achieve:
Right the 1st Time Set-up of Your Bioreactor
Accurate and Efficient Process Control
Highest Standards of Sterility
Audit Proof Compliance with GMP
Stay informed, download the eBook today. 
What should I consider when setting up a bioreactor?
When setting up a bioreactor, the following topics should be considered; scalability, foundation requirements, mobility, contamination prevention, system integration, calibration and routine testing.  Factoring in these key points Is following Quality by Design principles that will help ensure the right conditions for your bioreaction process.
How can I design quality into my bioreactor process?
Weighing should be used to monitor a bioreaction process, because It is one of the most reliable and accurate methods for controlling feed rates.  Using modern weighing sensors help achieve right-the-first time set up of your bioreactor, accurrate and efficient process control, the highest standards of sterility, and audit proof compliance with GMP.
How can the right support structure minimize negative influences on measurement for bioreactors?
If weigh modules are set on a weak foundation, excessive deflective could cause accuracy errors.  For this reason, understanding the mechanical and structural influences on accurately weighing the process parameters of your bioreactor is key.  Our Vessel Design Guide clearly lays out the different foundation options available to ensure optimal performance of your scale/weighing system.
What factors have to be considered in weighing for a mobile bioreactor?
The factors to consider for a mobile bioreactor are the following:  selecting suitable sensors that provide an adequate safety factor for various movements, using a scale sized correctly and choosing devices that can detect operator errors.  See PowerDeck floor scale in action and how It can detect operator errrors and keep your bioreactor process precise and agile.
How can I prevent cross contamination in my bioreactor?
Since bioreactions are susceptible to viral infections, it Is imperative to prevent any chance of contamination from occcuring.  Using hygienically designed equipment is the first step to ensure a contamination-free environment.  The main priciples for hygienic design are selecting the right construction materials, providing easy access for cleaning and preventing the accumulation of materials and liquids.  Factors such as, where to install the scale, cleaning procedures, and maintenance should be considered in order to prevent contamination.  For more information on cleaning equipment in pharma, check out www.mt.com/In-cleaning-tools.
How can I ensure easy system integration of weighing sensors, terminals and transmitters for my bioreaction process?
In order to ensure easy stystem integration of weighing equipment in a bioreaction process, it is important to use scales that are capatible with automation networks.  Also choosing to use "certified" PROFINET or EtherNet/IP for your PLC or DCS system will allow for the fastest integration possible.
How can I detect potential problems in my biorecation process?
In order to detect any potential problems in your bioreaction process, use smart weighing sensors that can continuously monitor and inform you about your scale's performance.  METTLER TOLEDO scales with POWERCELL® load cells can provide alerts about over or under loading, improper placement, or damaged cables.  It will keep your bioreacion process running accurately by avoiding undectected equipment failure.