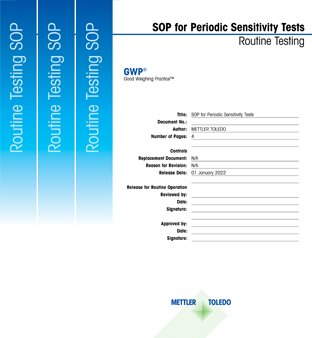 Standard Operating Procedures for balance testing of sensitivity, repeatability and eccentricity
Testing your balance and Scale too much or not enough?

According to ISO 9001, I have to calibrate and verify my weighing device at specified intervals. But the standard makes no statement on how this should be done or how often. Good Weighing Practice™ (GWP®) provides me with a recommendation on testing, based on my specific needs, meeting my internal requirements as well as ISO9001.

"The GWP recommendation also contains all relevant information about test weights and SOPs. So, I am sure to do the right thing." (Mrs. G. Nielsson, Quality Control Manager, Ice Cream)
Systematic balance testing minimizes risks and reduces costs. With the right SOP's testing is a piece of cake.
Free Standard Operating Procedures consist testing information (for Industry scale, lab microbalance, analytical or precision balance) on different topics:
Sensitivity
Repeatability

Eccentricity