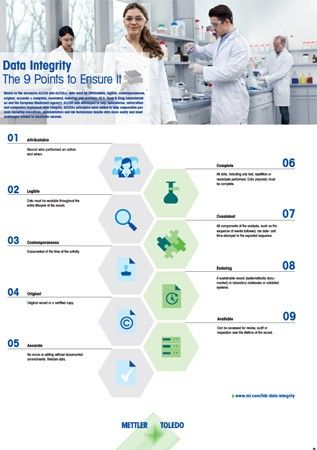 Data Integrity ALCOA defines a framework to achieve data integrity, especially important for regulated industries.
Data integrity can be thought of as a component of a larger process ensuring the security, traceability and quality of an organization's results over their whole lifecycle. The principles outlined in ALCOA and ALCOA+ support efforts toward data integrity, and include ensuring that data is attributable and traceable, among others.
Based on the  ALCOA and ALCOA+ framework we have developed a poster to help ensure data integrity in every laboratory.
Laboratories, universities and companies are working intensively to improve data management and data integrity in their daily work. Connectivity with technologies such as Wi-Fi, Ethernet or Bluetooth between lab equipment, lab technicians and students plays a key role.
Data can be collected by hand or electronically. Irrespective of the method, it's essential that records be original. Manually-recorded data that needs to be transferred into a spreadsheet and then analyzed with non-attributable information poses a risk. Likewise, the validity of data will be compromised when employees sign on behalf of others, data is not complete and/or records aren't secured.
The ALCOA+ Data Integrity principles come from the U.S. Food & Drug Administration and are designed to overcome the challenges in maintaining data integrity, particularly with electronic records. Download the poster and ensure data quality and data integrity for your laboratory.

The acronym of data integrity ALCOA+ defines a framework to achieve data integrity, especially important for regulated industries
In order to meet regulatory requirements, your laboratory data – printed or electronic – must be:
Attributable – Who performed an action and when?
Legible – Can you read the data file throughout the life cycle?
Contemporaneous – Documented at the time of the activity.
Original – Original record or a certified copy.
Accurate – No errors or editing without documented amendments.
Complete – All data including any test, repeat or re-analysis performed.
Consistent – Elements of the experiment are always carried out similarly.
Enduring – Recorded in laboratory notebooks or in validated systems.
Available – Can be accessed for review and audit or inspection over the lifetime of the record.