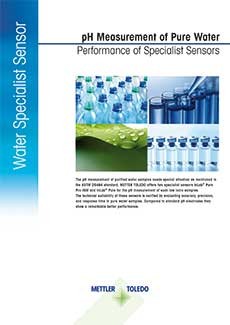 pH of pure water
The pH of pure water depends mainly on the efficiency of the purification method used and the soluble trace minerals remaining. Processes in many industries are reliant on water purity, and testing laboratories in such disparate areas as food and beverage, power generation and pharma perform pH analyses as a quality criterion. Methods for pH measurement of water and low-ion water samples are described in American Society for Testing and Materials (ASTM) standards D1293 and D5464.
The measurement of pH in pure water samples is critical due to its low conductivity, fluctuations in liquid junction potential of electrode, and also lack of sensitivity of glass membrane. Using specialist laboratory pH sensors eases pH measurements in such low ionic water samples.
This article provides a comparison study of different pH sensors, including specialist sensors, to ascertain the accuracy of pH sensors in pure water measurements.
Table of content:
Introduction
Experimental
Results and discussion
Tips and hints
Conclusion
Download this WhitePaper and learn more about pH measurement in pure water samples
What challenges do you face when measuring the pH of pure water?
Check out this video to learn how using the right sensor can simplify measurement when ensuring accurate and reliable results.
1. Introduction
Purity of water is an important aspect in majority of industrial sectors. Industries like pharmaceutical, semiconductor and electronics, power plants, and life sciences require pure water for their day-to-day laboratory testing and process activities. pH of water becomes a critical parameter in many applications at different workplaces in these industries, since it indicates the amount of soluble trace minerals, ability to corrode metals, suitability for aquatic life, and quality of potable drinking water. Hence, to address this concern, ASTM D1293 describes the method to measure pH of water. At 25 °C, pure water is expected to measure a neutral pH value of 7.0, but this majorly varies due to absorption of CO2 from atmosphere and lack of sensitivity of pH sensor to record the correct pH reading. Water normally shows a pH of 5.5 to pH 8. On equilibrium with air, pH of pure water can drop to 5.2 due to the formation of carbonic acid.
2. Experimental
Chemicals and reagents

The following water samples were used: tap water, packaged drinking water, low ionic conductivity standard (84 µS/cm), distilled water, and de-ionized water from Milli-Q® Direct system (ultrapure water- Type 1). METTLER TOLEDO pH buffers 4.01 and 7.00 were used for the calibration of the sensors. The conductivity standard 84 µS/cm was used for the calibration and verification of conductivity sensor.

pH and conductivity measurement apparatus and instrumentation

A SevenExcellence S470 meter (version 4.1.4) was used for all the pH and conductivity measurements. The pH of the water samples was measured using three generalist pH sensors named InLab Routine Pro-ISM, InLab Expert Pro-ISM, and InLab Max Pro-ISM and the two specialist sensors InLab Pure and InLab Pure Pro-ISM designed for pH measurement of pure water. "Pro" stands for inbuilt temperature probe; "ISM" (Intelligent Sensor Management) feature ensures storage and transfer of calibration history and sensor information. The conductivity of the samples was measured using the conductivity sensor InLab 741-ISM. For samples having conductivities below 100 µS/cm, the pH and conductivity measurements of these samples were carried out in a glass flow-cell to limit the samples exposure to atmospheric gases. The data collection and analysis were processed using LabX 2018 PC software (version 9.0.0).

Procedure

All the pH sensors were calibrated using the two pH buffers. The conductivity sensor calibration was performed using the conductivity standard 84 µS/cm. Firstly the conductivity of the samples was determined. The pH measurement of all samples was repeated three times. Some interval pH measurements were carried out to study the variance of pH over time with an interval of 15 seconds. The experiments were carried out in a laboratory with an ambient temperature of 25 ± 2 °C.
3. Result and Discussion
Experimentally acquired pH data by various pH sensors for all samples is plotted in the following graph. A correlation is drawn with respect to their conductivity. Each sample behavior is discussed individually to focus on the factors affecting accuracy and precision of pH measurement in these samples. The advantages offered by METTLER TOLEDO specialist sensor in measuring pH of these samples are further elaborated…
4. Tips and Hints
Make sure all the containers and tubings used during the pH measurement are clean and well rinsed with deionized water to avoid any contamination.

For the pH measurement of pure water, take maximum care to avoid any exposure to air and atmospheric CO2 even during sample handling…
5. Conclusion
pH measurements of pure water samples possess various challenges. The fewer the concentration of dissolved ions in the water sample, the higher is the probability of obtaining an incorrect pH result. Uptake of CO2 from air and carry-over of ions from different samples or glass ware affect the pH value of pure water more than general samples…