Analizator vlage
Hitro, natančno in zanesljivo
When Moisture Content Matters
Moisture affects the processibility, shelf life, usability and quality of many products such as pharmaceutical substances, plastics and foods. Info...

Moisture affects the processibility, shelf life, usability and quality of many products such as pharmaceutical substances, plastics and foods. Information about and determination of moisture content is therefore very important. METTLER TOLEDO is the expert in moisture analysis and offers a wide range of reliable instrumetns suiting the needs of quality control and in-process control.
As a leading manufacturer of high-quality moisture analyzers and tools for instrument performance verification such as SmartCal, with lots of application knowledge, and by having a word-class service organization, we can offer a full moisture solution to ensure optimal moisture determination.
What is a moisture analyzer and how does a moisture analyzer work?
A moisture analyzer is often also called moisture balance or moisture meter. It consists of a weighing unit and a heating unit (infrared technology) and is used to determine the moisture content of a sample with the loss on drying principle. Today many customers use a moisture analyzer because they want to analyze the moisture content using a much faster method. Moisture analyzers are used in many industries such as food, chemical, pharmaceutical and plastics. Moisture content determination in food is of particular importance as the moisture content influences the quality and shelf life of a product.
To find out more about moisture analyzers check out our 'Frequently Asked Questions on Moisture Analysis' page.
Ko je določanje vlage pomembno, profesionalni analizatorji vlage METTLER TOLEDO zagotavljajo izjemne rezultate.

Compact and robust design that works for both laboratory and production. User-guided touchscreen operation. Suitable for a variety of samples.

Ideal for anyone working on a tight budget, but still requires reliable moisture results.

SmartCal™ test substance ensures trusted moisture results by verifying the performance of your moisture analyzer.

Profesionalni analizator vlage

Najboljši način za določanje vlage

Izjemna hitrost od začetka do konca

Ob razvoju smo se na vseh področjih osredotočali na hitrost

Vrhunsko delovanje zagotavlja visoko kakovost izdelkov

Največja natančnost in ponovljivost za zanesljive rezultate

Kakovostni rezultati, sledljivo poročanje

Vgrajeno upravljanje uporabnikov, tiskanje dokumentov v velikosti A4 ali velikosti pisem

Povezljivost z omrežjem

Podpora za povezave Ethernet, USB in RS232

Hitro upravljanje

Sistem za merjenje vlažnosti OneClickTM za preprosto uporabo

Hitra analiza

Halogenska tehnologija omogoča hitro segrevanje

Hitro čiščenje

Ploske površine so povsem gladke in zatesnjene

User-friendly Operation

Graphical user guidance and method shortcuts for simple and error-free routine operation.

Robust and Compact Design

Long instrument lifetime and reliable results in the lab and on the production floor.

Convenient Reporting

ID Management with barcode reader, result storage in device. Transfer reports to USB flash drive.

Basic Functionality

Reliable moisture analysis for low requirements with regards to method flexibility and reporting.

Simple 3-Step Operation

Tare sample pan, place the sample, close the lid and start.

Brilliant Display

LCD display with large numbers for easy to read results in all light conditions.

Quick and Easy Performance Test

As simple as a regular moisture measurement - takes only 10 minutes.

Documented Performance

Integrated control charts to monitor moisture analyzer performance over time.

Testing at Point of Use

Test your moisture analyzer over the complete temperature range.
Storitve
Explore our Services - Tailored to Fit your Equipment
We support and service your measurement equipment through its entire life-cycle, from installation to preventive maintenance and calibration to equipment repair.
Moisture Applications
Why is moisture important?
Moisture affects the processability, shelf life, usability and quality of many products such as pharmaceutical substances, plastics and foods. Information about and monitoring of moisture content is therefore very important. Most substances have an optimum moisture content for obtaining the best possible processing results and therefore attaining maximum quality. Furthermore, moisture content impacts on price and there are statutory rules for some products governing the maximum permissible moisture content (e.g. as defined by national food regulations).
METTLER TOLEDO offers thermogravimetric and chemical techniques to determine the moisture or water content in a sample
How to Use the Search Function

To find your application use the filters for 'Sample', 'Industry' or use full text search. Any combination of filter and full text search is possible. Note that the full text search yields only matches that include the exact word sequence of your query.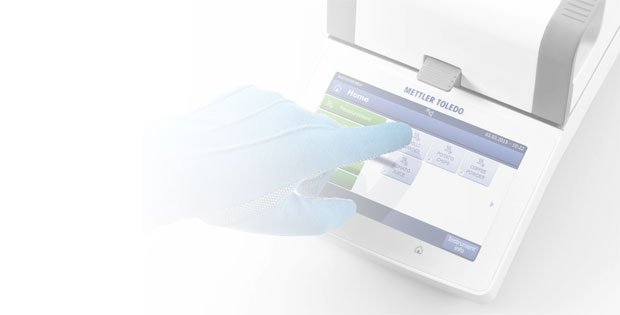 Applications Library
Find Your Application
The moisture application specialists of METTLER TOLEDO have developed more than 100 methods for various samples to use on METTLER TOLEDO halogen moisture analyzer. These proven and well-tested methods will help you to get repeatable and quick results with our moisture analyzers. The 'Application Search' allows you search through the database and find the application that best suits your needs. For each method we provide a PDF Datasheet and an xml method file to import the respective method parameters into your instrument (HX204, HS153 and HC103 only).