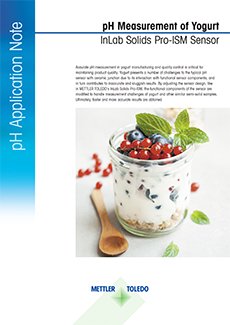 pH of yogurt
Measuring the pH of yogurt accurately during manufacturing and quality control is critical for maintaining product quality. Yogurt is an immensely popular dairy product due to its nutritional and therapeutic properties. It acts as a probiotic carrier due to the presence of live bacteria strains. The lactose sugar in milk is converted to lactic acid by these 'good' bacteria in a process called fermentation. The pH of milk drops from 6.7 to less than or equal to 4.6 pH units and its measurement is a decisive step in the making process of yogurt.
pH measurement of yogurt samples presents a number of challenges to the typical pH sensor with ceramic junction due to its interaction with functional sensor components, and in turn contributes to inaccurate and sluggish results. By adjusting the sensor design, the functional components of the sensor are modified to handle measurement challenges of yogurt and other similar semi-solid samples. Ultimately, faster and more accurate results are obtained.
Read this Application Note to discover a specialist sensor and get reliable results in your next pH measurement of yogurt samples.