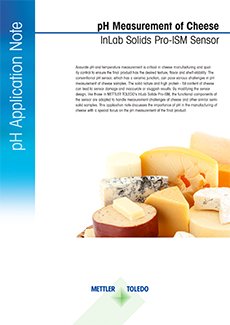 pH of cheese
Measuring the pH of cheese at each stage of the cheese making process and quality control is crucial to ensure the final product has the desired texture, flavor and shelf-stability. The use of conventional pH sensors, which has a ceramic junction, can pose various challenges in pH measurement of cheese samples. The solid nature and high protein - fat content of cheese can lead to sensor damage and inaccurate or sluggish results.
By modifying the sensor design, the functional components of the sensor are adapted to handle measurement challenges of cheese and other similar semisolid samples. This application note discusses the importance of pH in the manufacturing of cheese with a special focus on the pH measurement of the final product.
Read this Application Note and discover a sensor specialized in measuring the pH of cheese.
Get accurate pH results in your cheese samples
What challenges do you face when measuring the pH of cheese samples?
Check out this video to learn how using the right sensor can simplify the pH measurement when ensuring accurate and reliable results.