Supersaturation and Crystallization for Nucleation and Growth
The Driving Force For Crystal Nucleation and Growth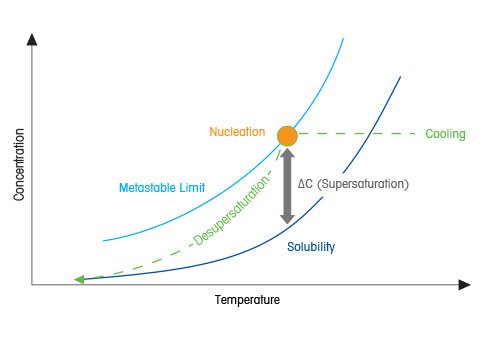 Supersaturation in Crystallization
The Driving Force
Scientists gain control of crystallization processes by carefully controlling the prevailing level of supersaturation during the process. When a saturated solution is cooled, the system enters a metastable region where the solution becomes supersaturated, in other words, more of the solute is in solution that the solubility curve predicts. As cooling continues, a certain temperature will be reached where crystal nucleation will occur, the metastable limit.
Once the metastable limit is reached and crystallization starts, supersaturation is consumed and eventually the liquid phase concentration will reach equilibrium at the solubility curve.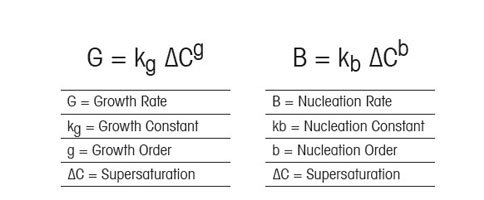 Why is Supersaturation Important?
Because supersaturation is the driving force for crystal nucleation and growth and will ultimately dictate the final crystal size distribution, it is critical to understand the concept of supersaturation.

Nucleation is the birth of new crystal nuclei – either spontaneously from solution (primary nucleation) or in the presence of existing crystals (secondary nucleation). Crystal growth is the increase in size (or more accurately "characteristic length") of crystals as solute is deposited from solution. The relationship between supersaturation, nucleation, and growth is defined by a well-known set of (somewhat simplified) equations first outlined by Nyvlt (Journal of Crystal Growth, Volumes 3–4, 1968, Pages 377-383)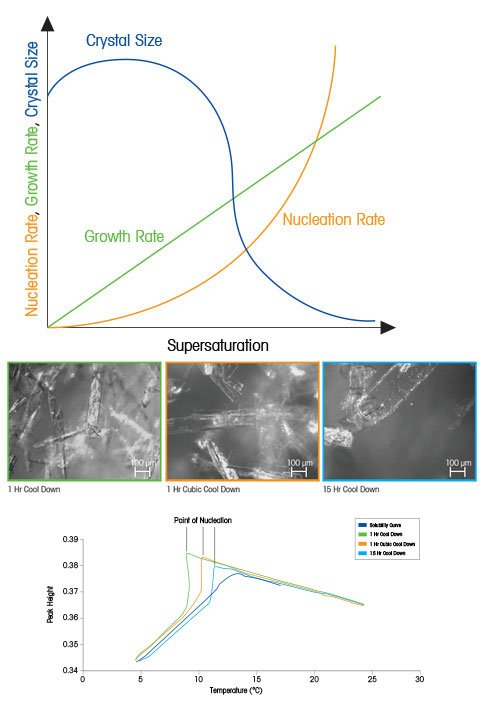 Crystal Nucleation and Growth
For organic crystallization systems, the value of the growth order (g) is typically between 1 and 2 and the value of the nucleation order (b) is typically between 5 and 10. When we plot these equations for a theoretical organic crystallization process the importance of supersaturation becomes clear. At low supersaturation, crystals can grow faster than they nucleate, resulting in a larger crystal size distribution. However, at higher supersaturation, crystal nucleation dominates crystal growth, ultimately resulting in smaller crystals. In the figure to the right, relating supersaturation to nucleation, growth, and crystal size clearly illustrate how controlling supersaturation is vitally important when it comes to creating crystals of the desired size and distribution.
Modern techniques such as ReactIR, outlined here by Barett et al (Chemical Engineering Research and Design, Volume 88, Issue 8, August 2010, Pages 1108-1119) allow solubility traces to be developed quickly and easily, and the prevailing level of supersaturation to be monitored continuously throughout a crystallization experiment. Faster cooling rates result in nucleation at lower temperatures and the highest level of supersaturation throughout the process. A very slow cool down results in a higher nucleation temperature and low supersaturation throughout the process. A one-hour cubic cool down (slow at first and fast at the end) has a medium level of supersaturation throughout. The influence of varying supersaturation on crystal size and shape distribution can be clearly observed by comparing ParticleView (a probe based real-time microscope) images for each experiment. Higher supersaturation results in the smallest crystals – since nucleation will be favored over growth.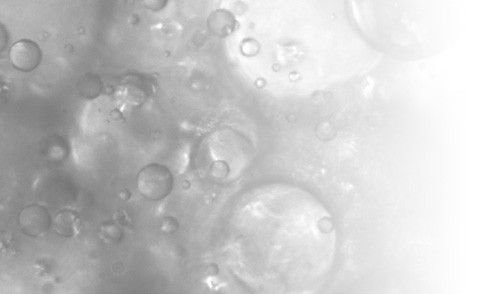 Case Studies on Monitoring and Control
Using experimental data, much has been accomplished in supersaturation monitoring and the estimate of crystallization kinetics. The approach has been extended to allow model-based control of crystallization processes.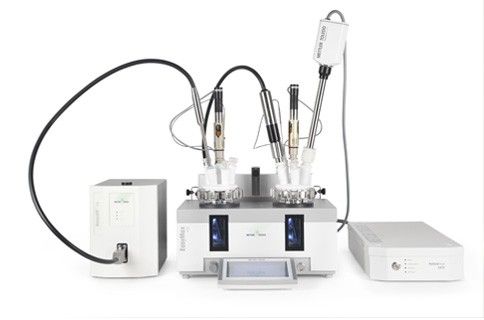 Technologies to Monitor, Optimize, and Control
Crystallization unit operations offer the unique opportunity to target and control an optimized crystal size and shape distribution. Doing so can dramatically reduce filtration and drying times, avoid storage, transport, and shelf life issues, and ensure a consistent and repeatable process at a lower cost.

How to Monitor & Control Supersaturation
This poster describes the use of a calibration-free method where the temperature during cooling crystallization is controlled automatically in a water/IPA solvent in order to maintain a constant level of supersaturation.

Optimizing Crystallization with Supersaturation Control
A method is presented which facilitates the calibration free use of in situ ATR-FTIR spectra for the production and control of qualitative supersaturation trajectories.

Guide to Effective Process Development
This white paper series covers basic and advanced strategies to optimize crystal size and shape distribution.
Applications
Applications For The Driving Force For Crystal Nucleation and Growth
Publications
Publications For The Driving Force For Crystal Nucleation and Growth
Citations

Crystallization and precipitation citation list and publications
Related Products
Technology For The Driving Force For Crystal Nucleation and Growth
Fourier Transform Infrared (FTIR) Spectrometers For Real-Time Monitoring Of Chemical Reactions
Understand, Optimize & Control Particle & Droplets With Real-Time In Situ Particle Size Analyzers
Automated Chemistry Reactors Control and Record All Reaction Parameters 24 Hours a Day