Metastable Zone Width (MSZW) in Crystallization
The Building Blocks of Crystallization
What Is Metastable Zone?
The metastable zone refers to a specific region in the phase diagram of a substance where a solution or melt can exist temporarily in a state that is thermodynamically unstable. In this zone, the substance remains in a supersaturated or supercooled state, meaning it contains a higher concentration of solute or is at a lower temperature than its equilibrium state would typically allow.
Within the metastable zone, the solution or melt is in a state of kinetic stability rather than thermodynamic stability. This means that although the system is not in its most energetically favorable state, it can persist in this state due to the absence of nucleation or crystallization triggers.
The metastable zone is important in processes such as crystallization, where controlling the formation and growth of crystals is desired. By operating within the metastable zone, it is possible to induce controlled nucleation and subsequent crystal growth, leading to the formation of desired crystal structures with specific properties.
However, it is crucial to carefully navigate the metastable zone since any disturbances or external factors can trigger nucleation and rapid crystal formation, leading to an undesired outcome. Therefore, understanding the boundaries of the metastable zone and implementing appropriate control strategies are essential in optimizing processes such as crystallization, precipitation, or supercooling.

How Do You Determine the Metastable Zone?
One way to determine the metastable zone is by utilizing a probe-based optical instrument like ParticleTrack. This instrument monitors the changes in particle size and counts during a process. By accurately identifying the point of dissolution on the solubility curve and the point of nucleation within the metastable zone at different solute concentrations, ParticleTrack enables the measurement of both the solubility curve and the metastable zone width (MSZW).

In a study conducted by Barrett and Glennon (Trans ICHemE, vol. 80, 2002, pp. 799-805), an unsaturated solution is gradually cooled at a consistent rate. Using ParticleTrack with FBRM, the point of nucleation within the metastable zone is determined, indicating a specific position within the MSZW. Subsequently, the solution is slowly heated until the point of dissolution is measured, marking a point on the solubility curve. This process is repeated by adding solvent to reduce the concentration, allowing for a swift measurement of the solubility curve and MSZW over a wide range of temperatures.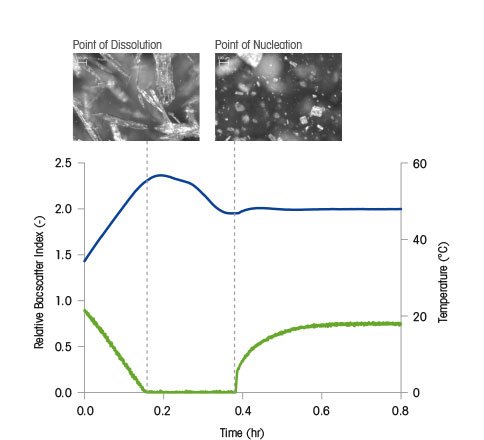 Common Ways to Reduce Solubility
Crystallization is achieved by reducing the solubility of the product in a saturated starting solution by:
Cooling
Adding Anti-Solvent
Evaporation
Some Combination of the Above Methods
Another common method used to induce crystallization is via a chemical reaction where two or more reactants are mixed to form a solid product insoluble in the reaction mixture; a common example of this would be the reaction of an acid and a base to form a salt.
The method chosen to crystallize product can vary depending on a number of factors. For example, protein crystals are temperature-sensitive ruling out cooling and evaporation and leaving anti-solvent addition as the most common crystallization method. For many crystallization processes, cooling can be advantageous as it is reversible; the saturated solution can be reheated in the event of a non-optimal operation.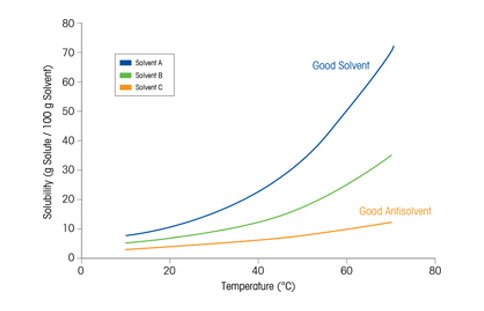 The Importance of Solubility Curves
Solubility curves (figure at right) are commonly used to illustrate the relationship between solubility, temperature, and solvent type. By plotting temperature vs. solubility, scientists create the framework needed to develop the desired crystallization process. Here, the solubility of the given material in Solvent A is high – meaning more material can be crystallized per unit mass of solvent. Solvent C has a low solubility at all temperatures, indicating it could be a useful anti-solvent for this material.
Once an appropriate solvent is chosen, the solubility curve becomes a critical tool for the development of an effective crystallization process. With this information, the starting concentration and temperature or anti-solvent ratio can be chosen, the theoretical yield can be calculated and the first important decisions regarding how the crystallization will be developed can be made.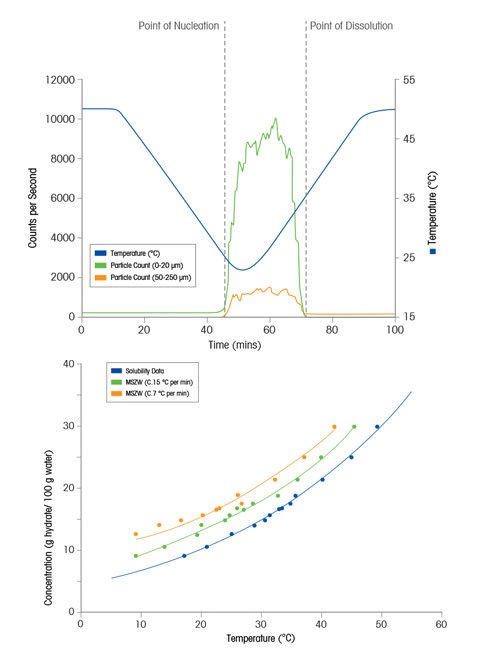 How To Measure Solubility
A probe-based instrument that tracks the rate and degree of change to particle size and count as particles exist in process, ParticleTrack, can be used to measure the solubility curve and MSZW (Metastable Zone Width) by accurately identifying the point of dissolution (point on the solubility curve) and point of nucleation (point on the MSZW) at various solute concentrations.
In a study by Barrett and Glennon (Trans ICHemE, vol. 80, 2002, pp. 799-805), an unsaturated solution is cooled at a slow, fixed rate until the point of nucleation is measured by ParticleTrack (Lasentec FBRM) indicating a point on the MSZW. Next, the solution is heated slowly until the point of dissolution is measured indicating a point on the solubility curve. Solvent is then added to the system to reduce the concentration and the process is repeated. In this way, the solubility curve and MSZW can be measured rapidly over a wide range of temperatures.
In this figure, the solubility curve and metastable zone width(s) for potassium aluminum sulphate is shown. While the solubility curve is thermodynamically fixed for a given solvent-solute system the MSZW is a kinetic boundary and can change depending on process parameters such as cooling rate, agitation, or scale. Characterizing the MSZW under a range of process conditions can help scientists understand how a crystallization process may behave at different scales - or in the event of a process upset. Variability in the MSZW under different conditions may indicate that the system may not behave consistently in terms of nucleation point and kinetics. Such a result may justify investigating the possibility of seeding the process in order to fix the nucleation point for every experiment or batch.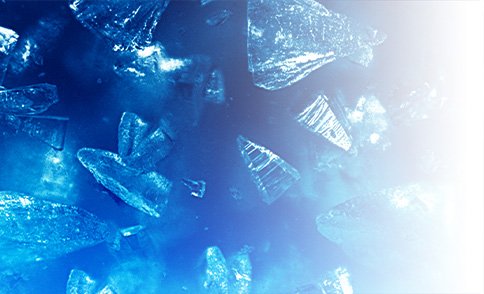 Case Studies on Solubility and MSZW
Dynamic approaches to solubility determination, such as this one, are sometimes limited in their accuracy since a fast heating rate means the exact point of dissolution can be overestimated. Static methods, such as gravimetric analysis may offer more accuracy – but are more time-consuming and cumbersome to implement. Many techniques can be used to measure solubility curves and recent research aimed at predicting solubility in different solvents is showing promise.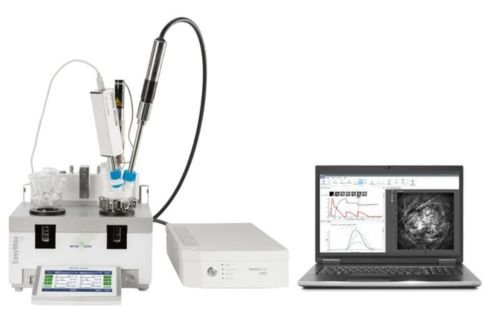 Technologies For Solubility and and MSZW
Crystallization unit operations offer the unique opportunity to target and control an optimized crystal size and shape distribution. Doing so can dramatically reduce filtration and drying times, avoid storage, transport, and shelf life issues, and ensure a consistent and repeatable process at a lower cost.

Crystallization Best Practices
This continuing review of crystallization literature is distilled into a summary that provides guidelines for understanding and optimizing the challenging unit operations of crystallization and precipitation.

Guide to Effective Process Development
This white paper series covers basic and advanced strategies to optimize crystal size and shape distribution.
Use Image Analysis to Optimize Crystallization
Discover how image-based process trending can reduce crystallization cycle time and improve quality while maintaining a similar crystal size and shape.
Applications
Building Blocks of Crystallization Applications
Publications
Publications On the Building Blocks of Crystallization
Citations

Crystallization and precipitation citation list and publications
Related Products
Crystallization Metastable Zone Width (MSZW)