The Impact of Mixing on Crystallization
Scaling-Up Agitation, Dosing, and Crystallization
Considering Process Scale
Influences of Mixing Conditions
Changing the scale or mixing conditions in a crystallizer can directly impact the kinetics of the crystallization process and the final crystal size. Heat and mass transfer effects are important to consider for cooling and anti-solvent systems respectively, where temperature or concentration gradients can produce inhomogeneity in the prevailing level of supersaturation. This often results in pockets of very high supersaturation close to the walls of the vessel for a cooling crystallization, or at the addition location for anti-solvent (and also reactive) crystallizations.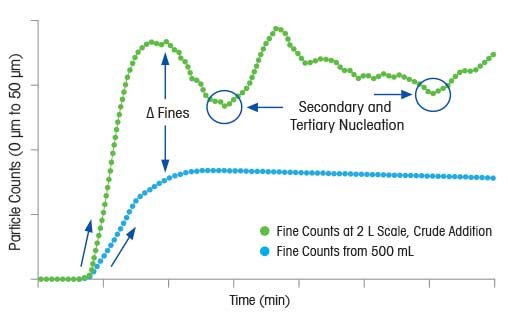 Comparing Mixing at Different Scales
Pockets of high supersaturation can cause very high nucleation and growth rates in certain regions of a large scale crystallizer, meaning the final crystal size distribution could vary dramatically from that achieved in a better-mixed environment in the lab during development. As seen in the graph to the right, a change from a 500 mL reactor to a 2 L reactor for the same crystallization process results in unexpected nucleation events characterized by ParticleTrack. Also, the number of fines generated throughout the batch is significantly higher.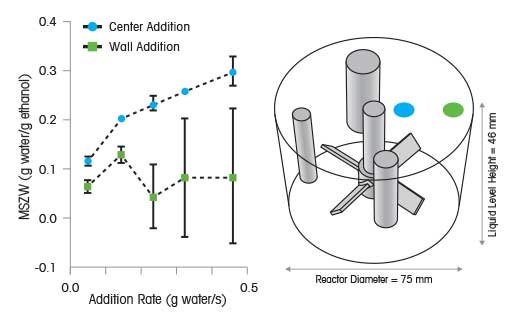 Crystallization Repeatability
Varying Nucleation Kinetics
The effect of local supersaturation build-up on crystallization is shown here, where the repeatability of the nucleation point for an unseeded crystallization is shown for an anti-solvent crystallization system. For this process (right), when anti-solvent is added above the liquid surface and near the wall of the reactor, especially at higher addition rates, the nucleation point is extremely inconsistent, with wide error bars shown for these experiments that were conducted in triplicate (D. O'Grady, M. Barrett, E. Casey, and B. Glennon. (2007) The Effect of Mixing on the Metastable Zone Width and Nucleation Kinetics in the Anti-solvent Crystallization of Benzoic Acid. Chemical Engineering Research and Design, 85, 945 – 952). Additionally, when adding anti-solvent above surface and at the wall of the crystallizer, nucleation consistently occurs sooner, at lower anti-solvent concentrations. The reason for these two concerning results is that when anti-solvent is added close to the wall, the mixing conditions in the crystallizer make it difficult for the anti-solvent to be incorporated easily, and supersaturation builds up at the feed location.
Anti-Solvent Incorporation
The Effect on Crystallization Kinetics
The reason for this dramatic disparity in consistency is due to how anti-solvent is incorporated into the vessel. This video (left) show computational fluid dynamics (CFD) tracer experiments, for both addition locations shown above (center and wall). When anti-solvent is added above the surface and close to the wall, it is difficult to effectively incorporate the liquid into the bulk solution. When anti-solvent is added closer to the impeller, incorporation of the anti-solvent occurs immediately. For this crystallization system this difference in anti-solvent incorporation – and the associated difference in the homogeneity of supersaturation through the vessel – causes significant differences in the nucleation and consistency of the crystallization process .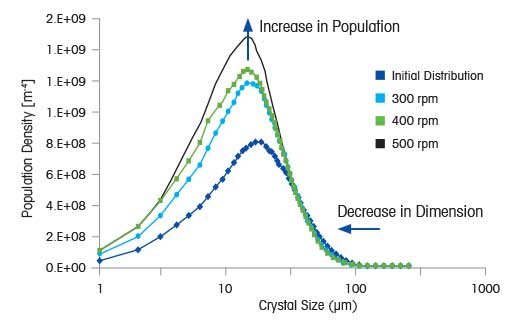 Effect of Mixing on Breakage
Shear Rates
In addition to mass transfer effects, the shear rate in a crystallizer can have a physical impact on the crystals through breakage. Crystal breakage is a function of the solids concentration in the system as well as the shear rate. As scale and mixing conditions change - solids concentration and shear rate gradients may become important, meaning more or less breakage could occur as a crystallization process is scaled up. In this example (right), the chord length distributions acquired using FBRM technology (ParticleTrack) for a continuous crystallization process, are shown for three different agitation intensities (E. Kougoulos, A.G. Jones, and M.W. Wood-Kaczmar (2005) Estimation of Crystallization Kinetics for an Organic Fine Chemical Using a Modified Continuous Cooling Mixed Suspension Mixed Product Removal (MSMPR) Crystallizer, Journal of Crystal Growth, Volume 273, Issues 3 – 4, 3 January 2005, Pages 520 – 528). As agitation and the associated shear rate increase, the distributions shift to the left with an increase in fine crystal counts, indicating crystal breakage. This result is common. However, such behavior is difficult to predict as the volume changes, since agitation intensity is not a scalable parameter.
Particle Size Analysis for Process Optimization
This paper discusses common particle size analysis techniques and how they are used for the delivery of high-quality particles. Examples include the usage of offline particle size analyzers in combination with in-process particle characterization tools to optimize processes.
Technologies to Monitor, Optimize, and Control
Crystallization unit operations offer the unique opportunity to target and control an optimized crystal size and shape distribution to:
Reduce Filtration and Drying Times
Avoid Storage, Transport and Shelf Life Issues
Ensure a Consistent and Repeatable Process at Lower Costs
Applications
Applications For Optimizing Crystal Size and Shape with Temperature Control
Publications
Publications on Crystallization Temperature Control
Citations

Crystallization and precipitation citation list and publications
Related Products
Technology For Crystallization Temperature Control
In-situ FTIR spectrometers enable scientists to gain insight into their reactions and processes in a wide range of applications. Optimize reaction variables with inline FTIR instru...
Understand, optimize, and control particles and droplets in real time with in-situ particle size analyzers.
Increase productivity in your lab with chemical synthesis reactors featuring built-in automation tools.