Metal Detection - Safeline
Industrial metal detection for the food and pharmaceutical processing and packaging industries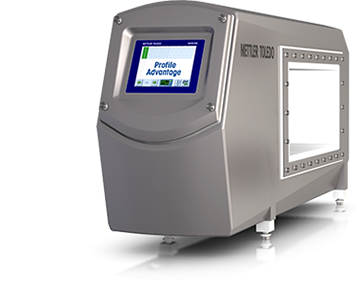 Profile Advantage – 50% Improved Sensitivity
Inline tunnel metal detector for use with conveyors.
Detecting smaller metal contaminants in wet, chilled, frozen and hot foods, foods packaged in metalized film.
Virtually eliminates false rejects, reducing costs and increasing productivity.
Services
Service for metal detection in the food and pharmaceutical industries
Explore our Services - Tailored to Fit your Equipment
We support and service your product inspection equipment through its entire lifecycle, from installation to preventive maintenance and calibration to equipment repair.

Publications
White papers, guides and other useful information by the experts in industrial metal detection
FAQ
What is an industrial food metal detector?
Metal detectors are used within the food processing industry to identify unwanted metal in food and safely remove any contaminated products from the production line before they leave the factory, ensuring they are safe for consumers.
Industrial food metal detectors can be combined with a variety of transport mechanisms including conveyors, pipelines, gravity-fed and free-fall vertical systems and can be integrated with reject devices to provide complete detection and rejection solutions.
Related Content:
---
What metal detection standards are used in the food industry?
Installing a metal detection system can help food manufacturers achieve compliance with the following main Hazard Analysis and Critical Control Points (HACCP)-based Global Food Safety Initiative (GFSI)-recognized standards:
The Foundation for Food Safety Certification 22000 (FSSC 22000)
Safe Quality Food Code 7.2 (SQF)
Other schemes do exist but the schemes listed above equate to over 90% of the adopted standards currently being applied.
All METTLER TOLEDO Product Inspection solutions have been developed with Food Safety Modernization Act (FSMA) regulations and GFSI-approved standards in mind, and supply the documentation, monitoring and verification required to aid compliance.
Related Content:
---
What types of metal detectors are used in food packaging?
There are a number of metal detection solutions available to meet any food packaging challenge from tunnel metal detectors, which can be integrated with conveyors, to gravity-fed and vertical form, fill and seal metal detectors.
METTLER TOLEDO Safeline offers a wide range of metal detection systems and integrated conveyors to for all food packaging requirements. Our Profile Advantage for can be used challenging applications such as wet, chilled, frozen and hot foods, and for foods packaged in metalized film, and our Throat and Super Throat metal detectors are specially designed to integrate with manufacturer's vertical form fill and seal machines and are available in a range of sizes for easy line integration.
Safeline also offers integrated conveyors to meet a variety of food packaging needs including cardboard, cartons, trays and bottles.
Take a look at our full range of metal detection systems.
---
What is the correct testing procedure for a metal detector?
When implementing a metal detection test procedure, manufacturers must firstly ensure their metal detector meets the required detection standards and are set up within the sensitivity guidelines.
Test cards or test sticks are the most common format for test samples used to test and verify tunnel metal detector performance. Test packs should be representative of the size, shape and weight of products travelling down the line. If inspecting bulk products, precautions should be taken to ensure test samples will not be lost if they are not detected and rejected, especially if the product is being fed directly into another processing machine after the metal detection system. The selection of correct metal contaminant types is also important.
Testing procedure checks include detector performance levels and complete system integrity/functionality.
There are no mandatory guidelines on the frequency of tests, unless these have been identified by a retailer code of practice or by requirements from a customer or external agency. However, it is recommended that testing is carried out at the start and end of each shift and of each new product run, and should be clearly documented within standard operating procedures.
Related Content:
---
What is a validation and verification procedure in metal detection?
Validation is the initial qualification of a product or process against the stated design specification and belongs at the start of the metal detector lifecycle when it is first installed into the production line.
A well-executed and carefully carried out installation phase is the foundation of worry-free and efficient use of the metal detector. Therefore, equipment manufacturers are in a strong position to support their customers throughout the installation/start-up process by making sure that the equipment works correctly and complies with all regulatory standards.
The verification procedure ensures that metal detector remains complaint against sensitivity standards and metal detection policies. The metal detector is periodically verified (typically at 6 to 12 month intervals) to ensure compliance and demonstrate due diligence.
Related Content:
---
Why buy a metal detection system?
Buying a metal detection system is a significant capital investment for many companies, so it is important that the equipment is reliable, effective and appropriately designed. This can lower costs and maximize product safety. Additional benefits include:
Improved brand and customer protection
Compliance to international food safety standards and retailer codes of practice
Reduced costs
Increased productivity.
Additionally, metal detection systems can effectively improve your overall equipment efficiency (OEE) and thus reduce your total cost of ownership (TCO).
---
Why buy a METTLER TOLEDO Safeline metal detector?
METTLER TOLEDO Safeline is the global market leader in the field of industrial metal detection systems for the pharmaceutical and food processing and packaging industries. Safeline metal detection solutions offer maximum detection sensitivity with minimum false rejects.
Safeline metal detectors for food processing can inspect products in all formats, from packaged conveyorized food products and bulk powder or granular materials through to liquids, pastes and slurries. Metal detection systems can be utilized to provide compliance with food safety inspection standards, industry guidance and legislation.
Safeline pharmaceutical metal detectors provide self-contained inspection systems for use with all tablets, capsules and pharmaceutical powders. These systems ensure compliance with regulatory requirements, validation and qualification of procedures.
---