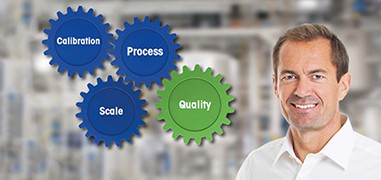 Calibrate your weighing process, not just your scales
Turn quality improvements into profits
Accuracy Calibration Certificate
Ensure compliance. Improve quality. Boost profits.
The Accuracy Calibration Certificate (ACC) is the new benchmark in the calibration of weighing equipment. This approach links the performance of your scales or balances to weighing process tolerances, going beyond common industry standards and using calibration results to help improve the quality of your weighing processes for increased profitability.
Turn quality improvement into profits
Watch how you can use calibration to increase your company's profits.

Benefits of ACC
Calibration is the most cost-effective and safest way of ensuring accurate weighing. The ACC offers a number of benefits over traditional calibration, including:
Compliance with global and local regulations and standards
Proof of accuracy for all measurements in day-to-day use
Fast interpretation with clear pass/fail notifications and graphical representations
Documentation of the safe weighing range

Register for your free seminar
Benefit from our wealth of knowledge and experience with an in-house seminar by one of our local calibration experts. Each seminar is geared towards helping you convert calibration information into tangible value at your workplace.
Download white papers
White papers provide know-how in a practical, user-friendly way. Whether you want to understand the basics of calibration or learn about measurement uncertainty and safe weighing range, we can put the right information at your fingertips.

Watch a webinar on ACC
Learn how calibration can improve your weighing processes and profitability from the comfort of your desk. This 'green' communication tool offers expert knowledge, whenever and wherever you want.