The Drying Over Reference Method
Loss-on-drying using the drying oven reference method is a routine procedure in many food laboratories for determining the moisture content of products and ingredients, both in quality control and incoming inspection. The example described in this Application Note focuses specifically on the inspection of incoming raw materials.
Moisture content determination in food is important, not just because it is related to final product quality, but also because ingredients are paid for by weight and this has an impact on costs. However, the loss-on-drying procedure using the drying oven is time consuming and error prone due to the high level of manual operations involved, particularly when working with multiple samples from several products.
This application note focuses on the differential weighing application on METTLER TOLEDO MS-TS analytical balances that simplifies both task workflow and data management for loss-on-drying procedures. It gives a brief overview of importance of moisture determination in food manufacturing, as well as highlights the challenges of loss-on-drying in a drying oven method.
Readers of this Application Note will find out what are the main solution benefits of using the below METTLER TOLEDO equipment for differential weighing application and how to maximize them.
MS204TS analytical balance
0.1 mg readability
and 220 g capacity
Differential weighing application

Barcode reader
Error-free data input

P-56RUE lab printer
Fast and error-free
documentation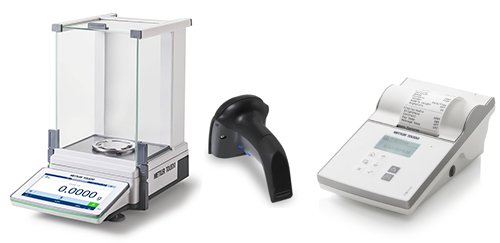 The Drying Over Reference Method