Cleaning Recommendations and Regulations for Balances
How clean is your balance?
Is your balance hard to clean due to enclosed spaces with limited access, and gaps that get filled with stuff?
Do the doors slide open and close easily, or are there dust and particles obstructing the slots?
Are you afraid to clean your balance in case you mess up the weighing mechanism or invalidate the calibration?
Are you unaware of how to safely dismantle your balance?
If you can answer yes to any of these questions, then read on, because it's not as hard as you think to keep a balance clean.
Why is cleaning important?
Safety of operators
Avoiding cross contamination (which can lead to incorrect results and OOS errors)

Regulatory compliance - according to cleaning protocols (SOP's)

Extending instrument lifetime
Regulatory compliance
The United States Pharmacopeia (USP) describes cleaning requirements in chapter 1251"Weighing on an analytical balance".
Performance Qualification: "Procedures should be in place to … provide assurance that balance cleanliness and environment have not affected the result."
Operation of the Analytical Balance: "The balance user should check the balance environment (vibration, air currents and cleanliness) and status of calibration before use."
The United States Food and Drug Administration (FDA) references in 21 CFR 211.67: Equipment cleaning and maintenance.
What should I do?
Basically, after interpretation of the regulations, you should:
1. Prepare a written cleaning procedure. The cleaning procedure (SOP) doesn't have to be long, but it should at least define:
What should be cleaned
What chemicals / method should be used
How often it should be done
Who should do the cleaning
2. Keep a written record (log) of when the cleaning activity is carried out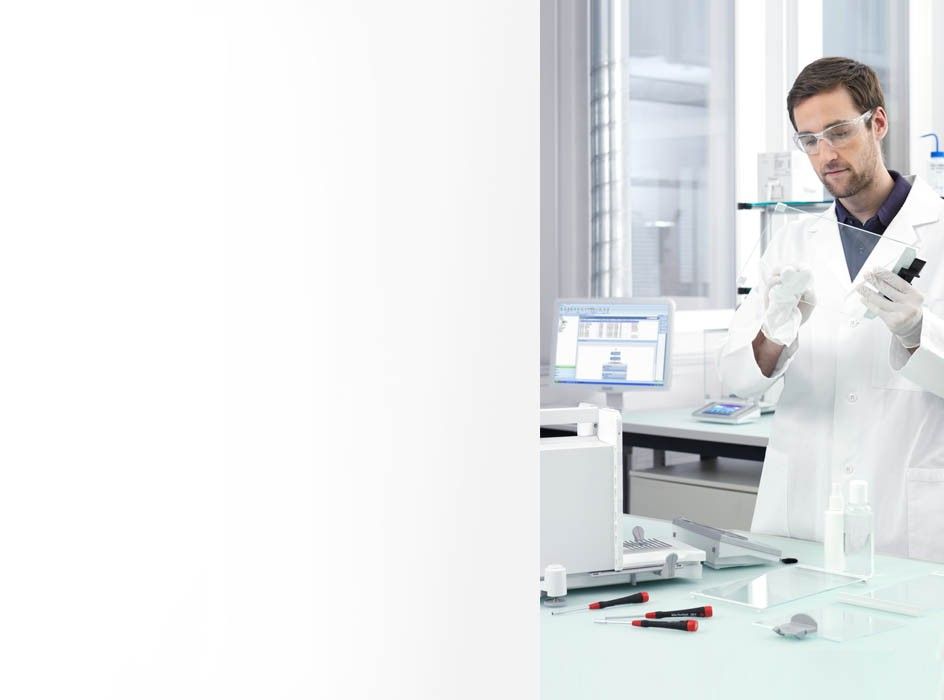 What should be cleaned and how?
Periodically clean the weighing pan, drip tray, housing and the terminal of your balance using a disposable tissue. (Be sure to take the necessary safety precautions if working with potentially dangerous substances). The weighing pan, drip tray and draft shield panels can be cleaned with a damp cloth or soft paper tissue and a mild detergent. Or they can be simply placed in the dishwasher (with the exception of microbalances). (*Learn more).
What chemicals can be used?
Your balance is made from high quality, resistant materials and can therefore be cleaned with a commercially available, mild cleaning agent.
Use common cleaning agents such as 70% ethanol or isopropanol, or mild detergents.
Draft shield panes are made of glass and can be cleaned with a mild detergent or commercial glass cleaner (*Learn more).
The weighing pan and bottom plate are made of stainless steel which is robust and are chemically resistant, with the exception that it is not compatible with strong acids.
Acetone should not be used, even for highly sticky substances, as it is not compatible with plastic handles, glued parts and the terminal screen.
How often?
In many labs, a daily inspection of the balance is recommended. If it is obviously dirty, the balance should be cleaned before use. Where toxic samples are being weighed, the balance should be cleaned immediately after each weighing. Otherwise, it is recommended to clean the balance at least weekly or monthly, depending on use. Whatever interval is decided upon, the frequency should be specified in the written standard operating procedure (SOP).

Cleaning a balance in 5 steps:
Switch off the balance display. Unplugging the power is recommended but not necessary.

If the balance has a draft shield, unlock and gently remove the glass panes. Clean them with a damp cloth or tissue and mild detergent or simply place them in the dishwasher.
Remove the weighing pan and the pan support or drip tray. These can also go in the dishwasher, or be cleaned with a damp cloth.
Wipe dirt AWAY from the hole in the middle of the balance. Do not allow ANY substance to enter the balance's internal parts.

Carefully reassemble the balance, making sure the parts are correctly positioned, switch the balance back on and check that it is working correctly.
More than 90% of lab balance failures are caused by liquids, powders or solids entering the weighing cell.

Tips for Cleaning
If toxic substances were weighed on the balance, take extra precautions to protect skin, nose, eyes and mouth before dismantling.
For simple daily cleaning, use a moist cloth or disposable tissue.
Cleaning can be done with detergents or suitable solvents, such as 70% ethanol or isopropanol.
When wiping the balance with a solvent, allow re-equilibration of the temperature inside the balance before use (as evaporation of the solvent will have a cooling effect).
After reassembling the balance make sure that the balance is level before use.
Clean draft shield panels, weighing pan and drip trays in the dishwasher.
It is better to remove the weighing pan to clean it, rather than cleaning the pan whilst it is still on the balance, especially if you have to rub hard to get the substance off.
Do not use abrasive cleaning agents on the balance terminal.
More Information

How to clean an analytical balance or precision balance. Download full Standard Operating Procedure (SOP).

The free reference guide '8 Steps to a Clean Balance and 5 Solutions to Keep It Clean' shows how cleaning can be quick and easy with the appropriate m...
*Learn more
§211.67(a) Equipment and utensils shall be cleaned and maintained at appropriate intervals to prevent malfunctions or contamination that would alter the safety, identity, strength, quality, or purity of the drug product.
§211.67 (b) Written procedures shall be established and followed for cleaning and maintenance of equipment, including utensils, used in the manufacture, processing, packing, or holding of a drug product. These procedures shall include:

(1) Assignment of responsibility for cleaning and maintaining equipment;
(2) Maintenance and cleaning schedules, including, where appropriate, sanitizing schedules;
(3) A description in sufficient detail of the methods, equipment, and materials used in cleaning and maintenance operations, and the methods of disassembling and reassembling equipment as necessary to assure proper cleaning and maintenance;
(6) Inspection of equipment for cleanliness immediately before use.

§211.67 (c) Records shall be kept of maintenance, cleaning, sanitizing, and inspection as specified in §§211.180 and 211.182.

Learn more
* Glass draft shields of balances with an antistatic ionizer have an electrically conductive coating (e.g. inner side of XP56 draft shield). These glass shields should be handled with care (no rubbing) otherwise the coating could be destroyed and the glass of the draft shields will get electrostatically loaded, which may negatively influence the measurement. For Ultra-MicroBalances the round glass draft shields have a sensitive coating to shield against infrared light. For this reason, it is advised that glass draft shields of microbalances are not be put into the dishwasher. In this case, the exterior of the draft shield can be cleaned using a mild detergent or commercial glass cleaner.