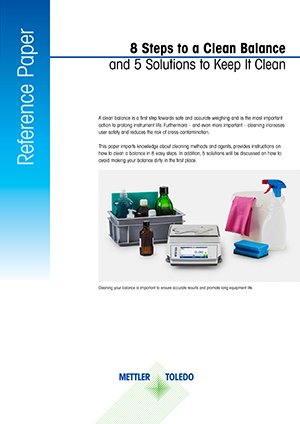 Guide to Balance Cleaning: 8 Simple Steps to a Clean Balance
A clean laboratory has a significant impact on both operator safety and cross-contamination risk. The same applies to laboratory balances.
A clean analytical or precision balance is the first step towards safe and accurate weighing. Cleaning increases user safety and reduces the risk of cross-contamination, and is the most important action to prolong instrument life.
Download the reference guide and get answers to the following frequently asked questions:
When should I clean my balance?
What materials do I need and which cleaning agents should I use?
How do I clean the different parts of my balance?
Can I move my balance to clean around it?
What do I need to do after I have finished cleaning?
Simply register below to download your free copy of the reference guide.

Ideally, laboratory SOPs dictate the schedule for balance cleaning. However, after weighing – especially when weighing potentially toxic substances – make sure the balance is thoroughly cleaned to prevent exposure risk for the next operator.

Watch our video and find out how easily and fast the weighing pan and drip tray of an XPR precision balance can be taken apart and washed in a lab dishwasher. Rounded edges and flat surfaces enable quick cleaning that is nearly effortless!
Even better than acting is preventing: Protect your balance from getting dirty in the first place. Consult the reference guide and get an additional five tips on:

How to avoid making your balance dirty, and
How intelligent solutions eliminate spills altogether
Keeping analytical and precision balances clean is essential to prolonging instrument lifetime, ensuring accurate results and – if toxic substances are measured – protecting users and reducing the risk of cross-contamination.
Cleaning can be fast and easy with an understanding of methods and cleaning. The icing on the cake is that you can do your lab weighing on a balance that is specifically designed for easy cleaning.
For this reason: When evaluating a new balance, keep an eye on gaps and shoulders in the design and check if the draft shield can be dismantled without tools. Better yet, determine if it can be removed in just a few steps and put in the dishwasher. This helps ensure easy clean-up when spills occur.