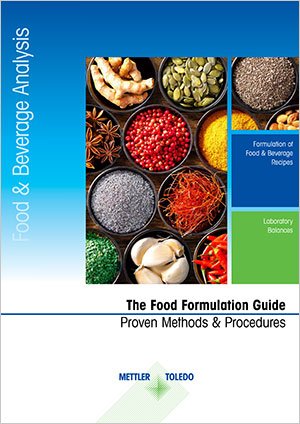 The Ultimate Food Formulation Guide
The Food Formulation Guide presents an overview of common points of error in the formulation process as well as strategies and solutions for ensuring fast, accurate formulation. Read the guide to find detailed information about:
The Importance of Formulas
Requirements for Food Laboratories
Formulation Basics, Risks, and Solutions
Meet the many challenges of producing accurate formulas for use in the food and beverage industry while saving time, money and effort in the process.

The requirements for new food recipes and individual ingredients are becoming more demanding. Consumers expect innovation, and are actively seeking out healthier products and sustainable sourcing. Manufacturers must keep up with these trends, which include the development of functional foods and dietary supplements, the reduction of salt in processed food, and the growing interest in diets that contain less or no meat.
Food industry labs focus the majority of their efforts on expanding their product range and improving existing recipes. New ingredients that may help to maximize taste, consistency, color, appearance, and aroma are tested, and formulas may undergo only slight alterations to perfect the end result. The weighing and recipe-management systems used must support these tiny formulation tweaks. At the same time, food producers must keep an eye on meeting production budgets, optimizing shelf life, decreasing time-to-market, and meeting regulatory requirements, all of which must also be supported by intuitive formulation management, precise and repeatable weighing, and secure data handling.
The Food Formulation Guide will help producers achieve:
Recipe accuracy/product consistency
Optimal taste/texture/shelf-life
Heightened productivity
Reduced waste
Easier compliance, and
Enhanced profitability.