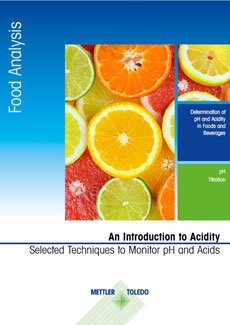 Guide: An Introduction to Acidity
With an influence on properties such as taste, savor and appearance, acidity is an important attribute of many foods. Present naturally, developed during procedures such as fermentation, or added in process, it serves as a metric of foods' quality and is also a standard means of preservation.
In this guide we present an overview of pH and titration equipment and techniques to assist with acidity determination in both fresh and processed foods. Discover the methods supported by each of these instruments, depending on the requirements for products and results.
 

Download the guide and learn more about:
Different techniques for acidity determination
Improving operator technique

Analytical methods for different samples
Method development and sample preparation
Acidity Measurement in Food
Get more detailed insights on how to perform accurate acid content determinations and acidity testing in the laboratory.