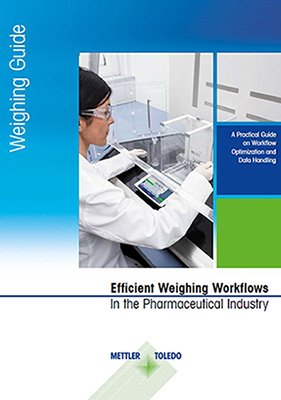 Optimize workflows in the pharma industry - free weighing guide
In the highly regulated pharmaceutical industry, whether in a general, R&D, production or QC facility, there is an intense focus on laboratory efficiency and productivity and, simultaneously, there are demanding GLP / GMP requirements to meet.
This free practical guide discusses how optimum efficiency and productivity of a typical pharma workflow can be achieved, by identifying and eliminating any particular inefficiencies, and introducing standardized processes.
This guide focuses on 5 typical applications & workflows in the pharma industry, where weighing plays an integral role:
Capsule Filling
Preparation of Culture Media
Sample Preparation for Titrator
Preparation of Reference Standards and Solutions
Sample Preparation for Quantitative Elemental Analysis in Research Labs
For each of these workflows the challenges and potential process improvements are being discussed. For many typically occurring issues in pharmaceutical workflows, automation is the solution, helping to streamline procedures and eliminate the potential for manual errors, and ensuring regulatory compliance is maintained.
One of the typical workflows in the pharma industry is preparation of reference standards and solutions. It is the most common task in all laboratories conducting quantitative analysis. The workflow will generally involve a number of different steps, each with its own challenges:
Solution preparation. Samples and standards are weighed on weighing paper or in weighing boats, transferred to a volumetric flask and diluted to volume. Serial dilutions are then performed to reach a concentration suitable for analysis.
Analysis, for example by HPLC
Interpretation of results
Data and report storage

Workflows in pharma industry guide
Potential improvements to the workflow include
Eliminating weighing paper / boats by direct dosing into a volumetric flask, reducing the potential for errors due to powder spillage and sample transfer. Back weighing of weighing papers and calculations become obsolete.
Removal of electrostatic charges from the sample, weighing paper or tare container by using antistatic devices.
Addition of a label printer to the balance, simplifying sample and standard management.
Reducing OoS errors in volumetric sample prep by making the shift to mass based methods with enhanced concentration accuracy.
The use of LabX Laboratory Software, guiding users through every step of the process: dosing, calculations and reporting. This automated procedure complies fully with GxP regulations.