A Leap Forward in Analytical Measurement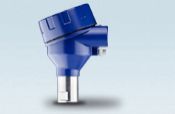 A Leap Forward in Analytical Measurement
A typical production plant contains hundreds or even thousands of field instruments, most of which are of the "fit and forget" type. They go unnoticed due to their inconspicuous design and absence of local human-machine interface.
Analytical sensors, on the other hand, require a transmitter large enough to include keys and a display because of their frequent need for calibration. METTLER TOLEDO has defied this convention. With the new M100, METTLER TOLEDO offers the world's first transmitter for analytical measurement based on a compact, head-mount design.
Intelligence is the key
For the first time, thanks to METTLER TOLEDO's powerful Intelligent Sensor Management (ISM®) technology, the combined head-mount transmitter/sensor concept has been applied to analytical parameters. This new approach enables METTLER TOLEDO to provide a solution for pH / ORP, conductivity, and oxygen measurement which requires a very small footprint and is extremely easy to handle.
Plug and Measure means no display required
This leap forward in field instrumentation is possible because ISM enables sensors to be calibrated away from the process in a convenient location such as a workshop. Calibrated sensors can then be swapped quickly in the field. This feature, called Plug and Measure, means that measurement point start-up is fast and error-free, and can be accomplished without significant know-how. Because of Plug and Measure the M100 does not require a local interface.
Intrinsically safe
The new, 2-wire transmitter series is designed for use throughout the process industries and has been certified intrinsically safe for installation in hazardous areas.
Online sensor diagnostics
Through the HART® protocol, the M100 allows not only transmitter configuration, but also integration of ISM's advanced sensor diagnostics tools such as the Dynamic Lifetime Indicator and Adaptive Calibration Timer, providing real-time data on sensor "health". These tools allow predictive maintenance, helping to secure maximum plant uptime, measurement point reliability, process efficiency, and safety.
The support of all major asset management tools such as AMS (Emerson), PDM (Siemens), and the open standard FDT/DTM ensures the widest compatibility, and remote access to sensor diagnostics.