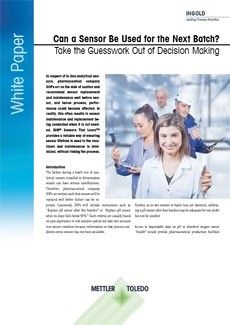 White Paper: Can a Sensor Be Used for the Next Batch
During fermentation or cell culturing, pH and dissolved oxygen are recognized as critical process parameters. Sensor failure during a batch can be a serious issue, so SOPs determine when sensor maintenance and replacement should occur to minimize the chances of it occurring. But these SOPs do not take into account true sensor condition, resulting in disposal of sensors that may operate dependably for many further batches.
Cutting-edge measurement systems that utilize intelligent sensors that learn from your process, take all guesswork out of sensor replacement or maintenance decisions. Further, this technology also reduces the possibility of human-error, resulting in increased accuracy and reliability.