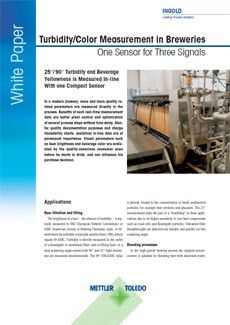 White Paper: Turbidity/Color Measurement in Breweries
Visual parameters such as beer brightness and color are evaluated by consumers even before they start to drink. Therefore, in modern breweries, more and more parameters are being measured directly in the process to better ensure final product quality.

For control and monitoring purposes, measuring turbidity and color is useful in various brewing stages. But can both parameters be determined with one sensor? The InPro 8600 is an innovative unit that uses highly accurate optical technology and advanced measurement electronics to monitor turbidity at two different angles, as well as beer color.
In this white paper, find out how the InPro 8600 supports optimization in:

Filtration
Blending
Filling


…helping to ensure high, consistent beer quality.