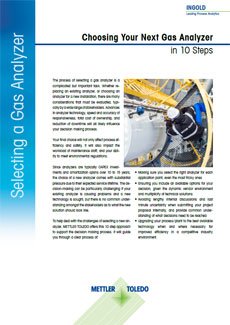 Gas Analysis
Selecting analyzers can be a tricky process, so a gas analyzer guide can be very useful. Having the right gas analyzer doesn't just determine your process safety and efficiency, it can effect maintenance work and have an impact on the environment.
When considering a new gas analyzer, it may be tempting to purchase another of the existing unit. But after 10 or 15 years the same analyzer is unlikely to be available anymore. And new technologies might be present that are better suited to the measurement task.
In this gas analyzer guide, we summarize 10 steps to follow to help you choose the best analyzers for your needs. The guide provide a systematic approach to:
Making sure you select the right analyzer for each application point.
Ensuring you include all available options for your decision.
Assessing lifetime and total project costs with vendors and reviewing them with stakeholders.
Avoiding lengthy internal discussions, rushed changes when submitting your project proposal internally, and providing common understanding of what decisions need to be reached.
Upgrading your process/plant to the best available technology when and where necessary for improved efficiency.
Tunable diode laser (TDL) spectrometers from METTLER TOLEDO, such as the GPro 500 series, are a fast responding alternative to paramagnetic and other process gas analyzer types. The GPro 500 series offers fast, reliable, continuous gas determination in flare system, CO boilers, FCC units and many other processes. These analyzers provide accurate measurements even if 80% of the original signal intensity is lost due to dust in the process. GPro 500 is installed directly in the process pipe or vessel, and do not require sample extraction or conditioning equipment.
GPro 500 offers:
In situ measurement
Response in 2 seconds
Very low maintenance
Tolerance of process dust and moisture
Coverage of a wide range of gases