Kalibratiegewichten/IJkgewichten
Perfect ontworpen voor het testen en kalibreren van balansen
Gewichten tot 50 kg ondergaan behandelingen in zes individuele en aangepaste baden. Elk gewicht wordt gereinigd en gestabiliseerd in een volledig geautomatiseerd proces voorafgaand aan de kalibratie, wat een egaal oppervlak garandeert.
OIML Classes E1, E2, F1, F2 & M1 and ASTM Classes 1-4

OIML Classes E1, E2, F1, F2 & M1 and ASTM Classes 1-4

Weights for Highest Metrological Performance and Specialized Applications

The Solution for Routine Testing, OIML Classes E2, F1 & F2 and ASTM Classes 1-4

Long-Life Test Weights

The finest quality stainless steel offers the highest resistance to corrosion over a weight's lifetime.

Calibration Certificate Needed?

Calibration certificates document that test weights are fit-for-purpose - requested e.g. by internal quality assurance, ISO 9001, FDA or GMP.

Protection and Durability

Robust and easy-to-clean plastic containers maintain test-weight integrity and accuracy.

Individual Weight Sets

Choose the weight set you need from 1 mg up to 5 kg. Add calibration certificates to provide reassurance that measurements can be validated at any time.

Protection and Longevity

Robust, easy-to-clean aluminum (OIML E1-F1) or plastic (ASTM 1-4 and OIML F1-M1) cases protect the integrity of the weights.

Marking Weights with Identical Values

If two weights in the set have the same nominal value, they are marked differently.

Mass Standard Calibration

We offer high-grade stainless steel knob and wire weights for weight calibrations and as reference weights in mass calibration services.

"E0" Reference Weights

Class "E0" weights (with a higher accuracy than OIML class E1 weights) enable calibration of mass standards at the highest metrological performance. Range: 0.05 mg up to 50 kg.

Microgram Weights for Specialized Applications

Microgram weights (50 µg to 500 µg) offer a test weight solution beyond traditional weighing boundaries.

Efficient Routine Testing

A CarePac contains everything you need for efficient balance routine testing in accordance with USP chapter 41 and GWP®.

Just Two Weights

According to GWP® two test weights are sufficient: at 5% capacity (repeatability) and at 100% capacity (sensitivity and eccentricity)

Comprehensive Solution

CarePac sets are supplied with a calibration certificate and professional weight-handling accessories so routine tests can be performed without worry.
Stackable cast iron and stainless steel weights for scales with maximum capacity of several tons.

Stainless Steel and cast iron grip handle weights for testing of scales with maximum capacity up to 200 kg.

Heavy Capacity Test Weights

Unique design for safe lifting

Grip Handle Weights

Easy handling designed for routine testing
Calibration Service
Service Offering
Balances or scales should always be checked with reference weights that you can rely on and trust. Our accredited mass laboratories clean, calibrate and adjust your weights, then document the results in calibration certificates with details of conventional mass correction, uncertainty and traceability information according to ISO/IEC 17025.
Calibrating, Passion at Work
Our unmatched global network of 14 calibration laboratories across Europe, the Americas and Asia guarantee fast and cost-effective mass calibration. Our metrology staff are passionate about their calibration work, to ensure you receive first class service as well as continuously improved results.
Using State-of-the-Art Robotic Mass Comparators
The combination of robotic technology and world-class mass comparators delivers proven reliability and outstanding measurement performance.
Scope up to 5 t
Scopes range from OIML E to M classes and ASTM classes. For heavy-duty weights, services cover all steps from re-painting to calibration, even for weights up to 5 t.
Professional Weight Cleaning
Weights up to 50 kg undergo treatment in a total of six separate customized baths. Each weight is cleaned and stabilized in a fully automated process prior to calibration to ensure uniform surface conditions.
Service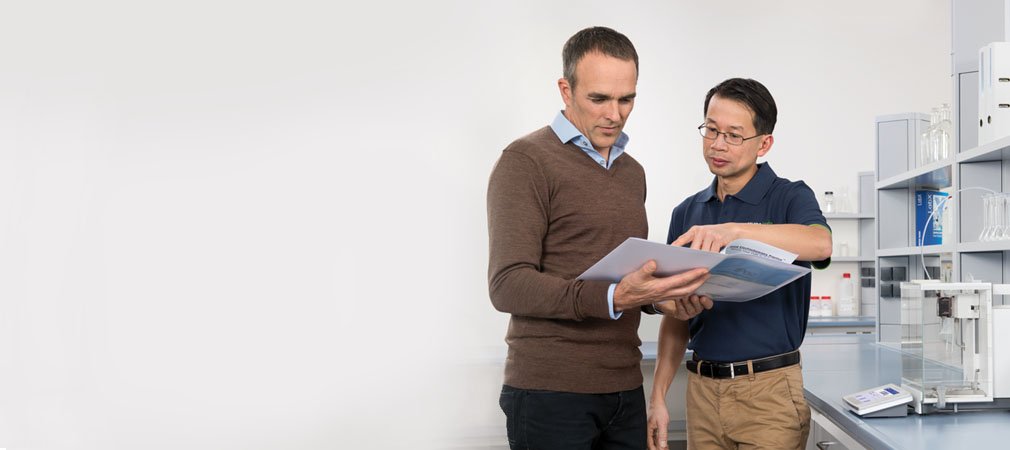 Deskundige service voor laboratoriumweegapparatuur – afgestemd op uw behoeften
Wij ondersteunen en onderhouden uw laboratoriumweegapparatuur gedurende het gehele productleven, van installatie tot balanskalibratie en van preventief onderhoud tot reparatie van de balans.
Kies het type apparatuur dat u gebruikt: