EasySampler 1210 System, Complete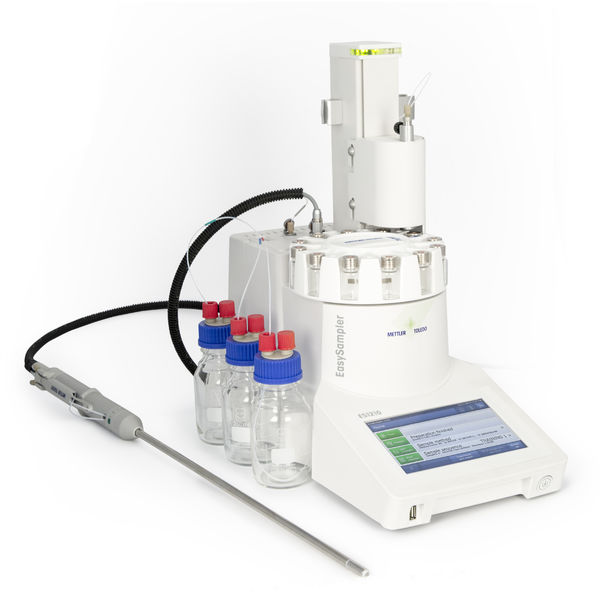 Automated Reaction Sampling
Increase your productivity with automated sampling technology.
How To Sample Reactions
See how to to use an automated sampler and save time in your workday.
Sampling Probe Maintenance
Learn how easy it is to change a sleeve on a sampling probe.
Specificaties - EasySampler 1210 System, Complete
Temperatuurbereik

-20 °C – 140 °C
Materiaal

PP
Aluminium
Roestvrij staal
PTFE
Keramisch

Verdunningsfactor

80 - 450 (1.6 - 9 mL)
Rek

Afmetingen (LxHxB)

500 mm x 465 mm x 310 mm
Gewicht

9 kg
Voeding

100 - 240 V

Materiaalnummer(s)

30083901
EasySampler was designed to eliminate these challenges by providing an automated and robust inline method of taking representative samples from reactions, even at extreme conditions.
Common EasySampler applications include:
Impurity Profiling
Product Formation
By-Product Formation
Sampling for Impurity Profiling
Reaction Progress by Offline Analysis
Yield
Air-Sensitive Reactions
Low-Temperature Reactions (to -20 °C)
Moisture-Sensitive Chemistry
Sampling Hazardous Reactions
Accessories
Accessories for Unattended, Representative Sampling For a Wide Range of Chemical Reactions
Accessories & Related Products
Support Documentation
Documentation for Automated Sampling of Chemical Reactions