SW Plan iCare ICIR-1Year
Get More, Spend Less.
One-year iCare for iC IR Instr
Stay Up-to-Date and Save Money
Always have access to the latest version of iC software at no additional cost – iCare is the most cost-effective way to keep up to date.
Prevent Obsolescence
iCare helps you adapt to the ever-changing IT landscape and delivers access to the latest features extending the life and value of your instrument.
Ensure Compatibility
For multiple instruments, iCare ensures that data sharing and exchange continues to work seamlessly by keeping all units on the latest version.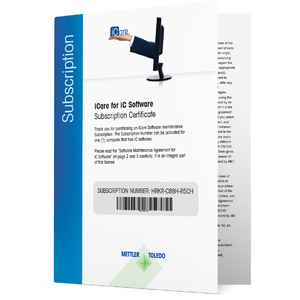 Keep Current While Saving Time and Money
iCare Software Maintenance is designed to provide subscribers with the opportunity to always have the latest version of software while paying significantly less over the lifetime of their instrument. Whether you have one instrument or many, iCare provides a variety of benefits including all version upgrades, service packs, instant software downloads, and easy, electronic mechanisms to request features and get support. iCare keeps your system current and your software budgets predictable.
Stay Up-to-Date
Always have access to the latest version of iC software at no additional cost
Save Money
iCare is the most effective way to stay up-to-date
Prevent Obsolescence
Adapt to the ever-changing IT landscape and access new features
Ensure Compatibility
Keep instruments on the same software version
Specificaties - SW Plan iCare ICIR-1Year
| | |
| --- | --- |
| Producten | iCare-softwareonderhoud |
| Ondersteunt | Alle iC-software |
| Abonnementstermijn | 1 yr |
| Materiaalnummer(s) | 14910090 |
Why is it important to use the latest version of iC Software?


New features and modules
are constantly added based on customer feedback and industry trends
Usability improvements and added capabilities save time and help get the most out of instruments
Compatibility with new intelligent D2i modules enables the distillation of complex data sets into valuable knowledge
Newer version provide
better connectivity
with other applications
Connections between iC software and third party tools are constantly expanding
Integration and data exchange among iC products is also improved with each release

Save money on future upgrades
by joining the program at today's prices
iCare subscriptions are a modest, predictable expense that can be easily budgeted. More importantly, iCare reduces total cost of ownership while increasing user productivity.
iCare includes updates to purchased D2i modules at no additional cost
iCare Software Maintenance includes all major and minor upgrades and maintenance releases for Instrument or Office versions of your iC and iControl Software as well as priority email support.  As an active iCare subscriber, you will also be eligible for special offers and discounts on related products and services offered from time to time.
iCare is a subscription service that is renewed on an annual basis.  Though a hardware maintenance contract is not required to purchase iCare software maintenance, having both maximizes your benefits.

Documentatie