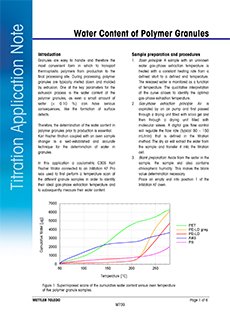 Polymer granules
During processing, polymer granules are typically melted down and molded by extrusion. One of the key parameters for the extrusion process is the water content of the polymer granules as even a small amount of water (< 0.10 %) can have serious consequences on the characteristics and performance of the final product, like the formation of surface defects.
Therefore, the determination of the water content in polymer granules prior to molding is essential. Loss on drying is a method commonly used to determine the water content. However, using this method, not only the water, but the total amount of volatile components is determined.
Karl Fischer titration coupled with an oven sample changer is a well-established, reliable and accurate technique for the specific determination of water in polymer granules. This application note first describes a temperature scan of different granule samples in order to identify the optimal gas-phase extraction temperature and subsequently the measurement of their water content.