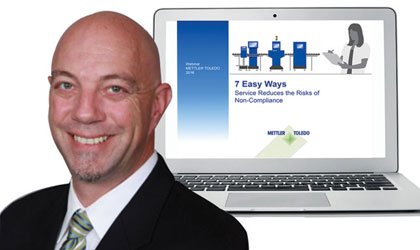 Seven Easy Ways Service Reduces the Risks of Non-Compliance
Food safety is more challenging today due to urbanization & travel, globalization, industrialization and climate change. Manufacturers must not only comply with global standards, but may also be impacted by local regulations. Not adhering to these can lead to significant risks with consequences.
This on-demand webinar discusses how several elements – from professional installation through to ongoing service contracts – can reduce the risks of non-compliance with specific industry standards, legislation and regulations. Examples are used to illustrate the link between key requirements from several GFSI-approved standards and the USA's Food Safety Modernization Act and the service support available to help meet these requirements.
Learn how Service Support Can Make Compliance Easier
Food manufacturers are heavily influenced by global food safety standards such as the Global Food Safety Initiative (GFSI) and associated schemes including British Retail Consortium (BRC), International Featured Standard (IFS), Food Safety System Certification (FSSC 22000) and Safe Quality Food (SQF). Local regulations such as the Food Safety Modernization Act (FSMA) in the USA,ANVISA in Brazil, and the Food Standards Act in Europe also play a key role in ensuring food produced is safe for consumers.
Investing in service support over the lifecycle of your checkweigher, metal detection system, vision inspection or x-ray inspection system can help you to more easily meet your compliance requirements and reduce your risks of non-compliance.
Purchasing Product Inspection Equipment is Not Enough
Product Inspection equipment plays a key role in the implementation of a food safety programme. Having the right product inspection equipment installed at the correct location is essential to meet the requirements of standards and legislation based on the principles of either Hazard Analysis Critical Control Point (HACCP) or Hazard Analysis and Risk-based Preventive Controls (HARPC).
However, simply having the right product inspection equipment installed is not enough. The equipment must be:
Used as intended
Be proven to operate reliably as intended
Maintained appropriately so that it continues to perform as expected
Post-sale Service Support is the Key to Maximum Compliance
Service support, delivered by experienced Service Technicians, is the key to maximizing the operational effectiveness of your product inspection equipment and ensuring compliance with the latest food safety standards, legislation and regulations. This webinar outlines in easy to understand terms, how service support can ensure compliance with specific food safety standards and regulations.
Related Webinars

Learn about impending changes happening in the the food safety landscape and how it will impact your business in the coming years.

This webinar explains how to validate, verify and monitor conveyorized metal detection systems.

This on-demand webinar explains methods of testing throat and gravity fall metal detectors comparing 3 manual test methods against a revolutionary met...

On-demand Food Safety MasterClass webinar how to prevent physical contamination in 6 steps.
Product Inspection Solutions  
Compliance with legal requirements and reduction of waste for the food, beverage, pharmaceutical, chemical and non-food industries.

METTLER TOLEDO offers a range of industrial metal detectors to detect metal contaminants in most food and pharmaceutical applications.

Safeline X-ray's product inspection contamination detection equipment minimises product recalls by enhancing food safety and providing quality assurance.

Serialization and aggregation software and solutions for compliance with industry and government regulations.

Mettler Toledo is an expert provider of vision inspection solutions, with a great deal of experience in this field across a wide range of clients and industries.

ProdX delivers enhanced productivity, superior product quality, high-level security and total process clarity to benefit your full production team.