MD System PA9000 Series
For challenging applications.
Delivers up to 50 percent improved sensitivity to detect smaller metal contaminants when inspecting products that are wet, hot, chilled, cooling or packed in metallized film
Maximum Sensitivity and Performance
Multi Simultaneous Frequency & Product Signal Suppression technology deliver the ultimate detection sensitivity with low false triggering
Safety Design
We build safety into our equipment and have qualified our design personnel in the practice of both EU and US standards.
Simple to Use and Robust Conveyor Design
Hygienic, stainless steel frame and robust, open construction design allow for easy cleaning to support GFSI compliance.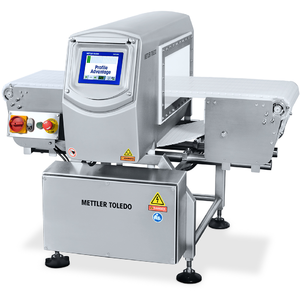 Product Family:MetalDetection00030006
Specifications - MD System PA9000 Series
| | |
| --- | --- |
| Brand Protection | Maximum sensitivity to Fe, Non-Fe & S/S metals |
| Compliance | Essential (GFSI/FSMA); Higher Level (Retailer) |
| Increased Productivity | World class reliability and OEE reporting |
| HMI | 5.7" QVGA colour touchscreen display |
| Unparalleled Support | Global service capability and modular spares packs |
| IP rating | IP66 |
| Product Flow | Conveyor |
| Product Format | Packed; Unpacked H175mm |
| Assured Compliance | Supports FSMA & all GFSI codes incl. BRCGS & IFS |
| Detection Capability | Industry Leading |
| Frequencies | Multi Simultaneous |
| Product Characteristic | Metalized Film; Wet |
| Industry | Pet Food; Pharmaceutical; Food; Other |
| Conveyor Integration | ASN 1200mm |
| Total Cost of Ownership | Long term reliability with zero false rejects |
| Enviromental Robustness | Scalable options to suit the harshest environments |
| Finish | Bead Blast SS; Brushed SS |
| Material Number(s) | 30396005 |
HMI:5.7" QVGA colour touchscreen displayHMI:5.7" QVGA colour touchscreen displayIP rating:IP66IP rating:IP66Product Flow:ConveyorProduct Flow:ConveyorProduct Format:Packed; Unpacked H175mmProduct Format:PackedProduct Format:Unpacked H175mmDetection Capability:Industry LeadingDetection Capability:Industry LeadingFrequencies:Multi SimultaneousFrequencies:Multi SimultaneousProduct Characteristic:Metalized Film; WetProduct Characteristic:Metalized FilmProduct Characteristic:WetEnviromental Robustness:Scalable options to suit the harshest environmentsEnviromental Robustness:Scalable options to suit the harshest environmentsFinish:Bead Blast SS; Brushed SSFinish:Bead Blast SSFinish:Brushed SS
Easy Integration
Combining an ASN with a conveyor, provides a space saving product inspection solution optimised for production lines with limited insertion space.

Optimised Configurations
ASN Series conveyor range are optimised width and height conveyors, with a standard range of metal detector aperture sizes.

Comprehensive Rejection Options
ASN Series provides a comprehensive set of rejection options including, Stop on Detect, Air Blast and Pusher