MD System ASN6000 Series
Economical Detection Solution.
The comprehensive range of ASN 6000 systems provide a flexible, fully integrated choice of metal detection solutions for small to medium sized inspection applications.
Operational Efficiency
A multi-language O/S minimises training and provides rapid auto set-up, product changeover and in-built verification routines, reducing downtime.
Safety Design
We build safety into our equipment and have qualified our design personnel in the practice of both EU and US standards.
Hygienic Design
A fully welded frame and hygienic head design supports HACCP compliance. Food grade contact parts, minimise the potential of product contamination.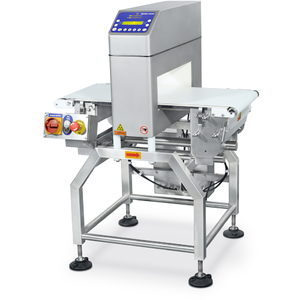 Product Family:MetalDetection00030004
Specifications - MD System ASN6000 Series
| | |
| --- | --- |
| Brand Protection | High sensitivity to Ferrous, Non-Fe & S/S metals |
| Compliance | Essential (GFSI/FSMA) |
| Increased Productivity | World class reliability and long term performance |
| HMI | Key Panel with LCD Display |
| Unparalleled Support | Global service capability and modular spares packs |
| IP rating | IP65; IP66; IP69k; IP44 |
| Product Flow | Conveyor |
| Product Format | Packed; Unpacked H<175mm |
| Assured Compliance | Supports FSMA & all GFSI codes incl. BRCGS & IFS |
| Detection Capability | High |
| Frequencies | Tuned |
| Product Characteristic | Dry; Wet; Deep Frozen; Metalized Film |
| Industry | Pet Food; Pharmaceutical; Food; Other |
| Conveyor Integration | ASN 1200mm; ASN 800mm |
| Total Cost of Ownership | Long term reliability with zero false rejects |
| Enviromental Robustness | Scalable options to suit the harshest environments |
| Finish | Bead Blast SS; Brushed SS; Painted AL |
| Material Number(s) | 30396003 |
HMI:Key Panel with LCD DisplayHMI:Key Panel with LCD DisplayIP rating:IP65; IP66; IP69k; IP44IP rating:IP65IP rating:IP66IP rating:IP69kIP rating:IP44Product Flow:ConveyorProduct Flow:ConveyorProduct Format:Packed; Unpacked H<175mmProduct Format:PackedProduct Format:Unpacked H<175mmDetection Capability:HighDetection Capability:HighFrequencies:TunedFrequencies:TunedProduct Characteristic:Dry; Wet; Deep Frozen; Metalized FilmProduct Characteristic:DryProduct Characteristic:WetProduct Characteristic:Deep FrozenProduct Characteristic:Metalized FilmEnviromental Robustness:Scalable options to suit the harshest environmentsEnviromental Robustness:Scalable options to suit the harshest environmentsFinish:Bead Blast SS; Brushed SS; Painted ALFinish:Bead Blast SSFinish:Brushed SSFinish:Painted AL
Easy Integration
Combining an ASN with a conveyor, provides a space saving product inspection solution optimised for production lines with limited insertion space.

Optimised Configurations
ASN Series conveyor range are optimised width and height conveyors, with a standard range of metal detector aperture sizes.

Comprehensive Rejection Options
ASN Series provides a comprehensive set of rejection options including, Stop on Detect, Air Blast and Pusher