EasySampler 1210 System, Complete
Unattended, Representative Sampling.
Unattended, Representative Sampling for a Wide Range of Chemical Reactions
Automated and Unattended Sampling
Sampling long reactions can be impractical and lack of samples leads to data blind spots. EasySampler can be programmed for continued operation 24/7.
Representative and Reproducible
Sampling reactions with precision is challenging. EasySampler samples from the same position into a fixed volume pocket for accurate analytical data.
Automated and Unattended Sampling
Sampling air-sensitive, pressure, or toxic reactions is difficult. Representative data is enabled by automated sample capture and immediate quench.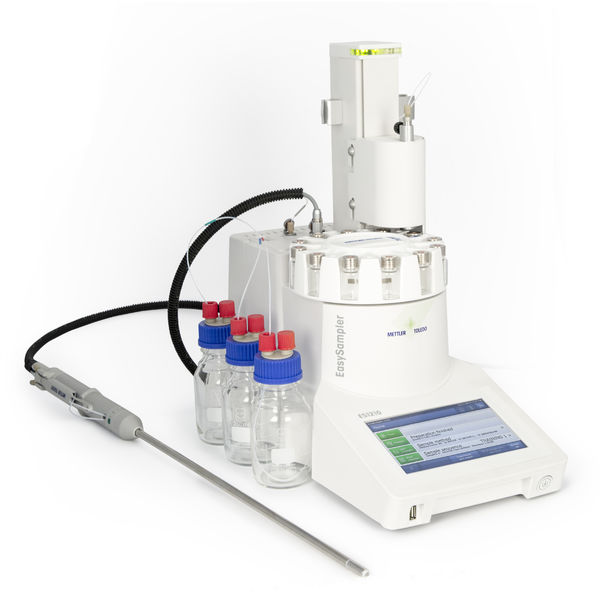 Automated Reaction Sampling
Increase your productivity with automated sampling technology.
How To Sample Reactions
See how to to use an automated sampler and save time in your workday.
Sampling Probe Maintenance
Learn how easy it is to change a sleeve on a sampling probe.
Specifications - EasySampler 1210 System, Complete
Temperature Range

-20 °C – 140 °C
Material

PP
Aluminum
Stainless Steel
PTFE
Ceramic

Dilution Factor

80 - 450 (1.6 - 9 mL)
Rack

12 x 10 ml
Dimensions (LxHxW)

500 mm x 465 mm x 310 mm
Weight

9 kg
Power

100 - 240 V
50 / 60 Hz

HPLC Ready Samples
Automated sample preparation saves time and eliminates human error. Samples are diluted to a user-specified concentration, ready for offline analysis.
Eliminate User Safety Concerns
EasySampler reduces manual handling and exposure to hazardous chemicals. This reduces risks and improves operator safety.
Sample and Quench at Reaction Conditions
Three simple steps, when combined into one single operation, are powerful. EasySampler is disrupting the way chemists work. Immediate quench of the sample in the micro-pocket of the dip probe stops the reaction and ensures the time point is representative.
Transform Productivity
Run experiments around the clock and program EasySampler with a sequence for continued sampling operations 24 hours a day. Collect and share data from every experiment.
Accessories & Related Products
Support Documentation
Datasheets

Unattended, representative automated sampling for a wide range of chemical reactions
Product Brochures

Eliminate chemical reaction sampling challenges by using an automated and robust method of taking representative samples
Extended Product Information

This Quick Start Guide provides step-by-step instructions to set-up EasySampler for unattended automated sampling.

This Quick Start Guide provides step-by-step instructions to connect EasySampler to EasyMax, OptiMax, or RX-10 using the EasySampler Connectivity Kit.

Tips and tricks for EasySampler, including set-up, probe introduction, data management and sampling for different types of reactions.

Get the best from your equipment. Develop your equipment maintenance and support strategy through METTLER TOLEDO services.