Automated Reactor Sampling System
EasySampler for Unattended, Representative Sampling
Automated sampling enables increased productivity by addressing challenges associated with manual sampling tools such as pipettes and syringes. Automated, inline chemical reaction sampling with EasySampler is an intuitive and seamless extension that streamlines the experimental workflow for every chemist while liberating personnel from the tedium of manual sampling.
EasySampler is an automated and unattended sampling solution that delivers high-quality samples day and night for standard offline analysis, such as HPLC. This unique, patented probe-based technology has a micro-pocket, which:
Samples and quenches in situ and at reaction conditions
Takes samples at scheduled intervals
Dilutes the sample in preparation for offline analysis
Does not require expert knowledge to operate
Automated Sampling for Chemical Reactions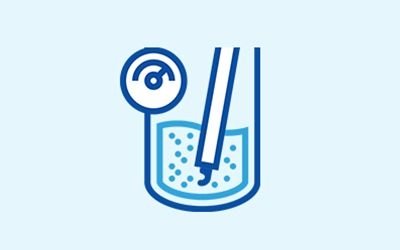 Representative and Reproducible
Sample and quench at reaction conditions—even when manual sampling is impossible or very difficult due to challenging conditions.
EasySampler 1210 System
EasySampler eliminates sampling challenges—taking representative and reproducible analytical samples from almost any chemical reaction has never been easier!
Automated and unattended
Gain complete reaction profiles and reaction understanding, and improve yield and product quality—never miss a sample.
Superior quality samples
Improved reaction information by linking process conditions with the points at which species form.
Wide range of chemistries
Easy sampling of a wide range of chemistries, including slurries, air and moisture-sensitive reactions, even at elevated temperatures and pressure.
HPLC-Ready Samples around the Clock
Increased productivity and understanding
The obligations of the workday (or night) often do not allow sampling of reactions as often as required. This leads to lost or missing data. Frequently, these missing data points omit optimum end-point and important understanding of impurity formation. EasySampler executes representative and reproducible sampling including in-situ quench and dilution—providing LC-ready samples at any time.
Sampling from reactors with EasySampler enables scientists to optimize their workflow and productivity by enabling increased reaction understanding while eliminating tedious manual sample practices. For even further productivity gains, sampling can be automatically scheduled or triggered as a function of varying process parameters including temperature, stirring, dosing, pH, or other real-time process information.
Solution-Phase Sampling with EasyFrit Filter
Automated Sampling for Crystallization Process Development
Expand the capabilities of EasySampler with the seamless integration of EasyFrit. The EasyFrit filter is compatible with all EasySampler probes and allows for selective sampling of the solution phase despite the presence of suspended particles. This accessory creates an easy-to-use, automated sampling solution for crystallization studies.

EasySampler with EasyFrit facilitates data-rich experimentation throughout a controlled crystallization. Embedding this solution in a particle engineering workstation enables a better understanding of the solution-phase by creating impurity profiles, uncovering the effects of supersaturation on impurity, and providing kinetic and thermodynamic information of the crystallization process.
Truly Representative Reaction Progression
Eliminate critical data gaps
EasySampler's intuitive touchscreen allows scientists to preprogram sampling and dilution sequences to track reaction progression over time—without manual intervention. This allows every scientist to reproducibly capture a representative sample for offline analysis, such as HPLC or NMR, to understand reaction pathways, kinetics, intermediates, and impurity profiles.
Automated sampling with EasySampler can be used in round bottom flasks, jacketed lab reactors, or seamlessly integrated with automated chemical reactors. This allows straightforward identification of the impact of varying process conditions on reaction performance. 
Pfizer Evaluates Automated Sampling
View this white paper reviewing four case studies where Pfizer researchers successfully used unattended, automated chemical reaction sampling:
Removing Barriers for Impurity and Kinetics Profiling in an Ullman Reaction
Improving Confidence by Measuring the Effect of Process Parameters on an Imidazolide Reaction
Extending Productivity with Endpoint Detection in a C-H Reaction
Ensuring Successful Scale-up of an Amination Reaction
Reactions that Pfizer successfully sampled include:
Thick slurries
Dark mixtures with inorganic salts present
Tri-phasic mixtures
Oxygen-sensitive reactions
Sample Challenging Reactions
From slurries to elevated temperature
Manual sampling does not always provide precise and reproducible samples, especially in heterogeneous and multiphase reactions or reactions at sub-ambient or elevated temperatures and pressures. Delays in quenching typically lead to variable results and inaccurate analytical information. EasySampler provides an automated and robust inline method of capturing and quenching samples from reactions—even under difficult conditions.
The flexible nature of EasySampler allows scientists to obtain high-quality samples from a variety of processes from vial to kilo scale equipment including pressure vessels and reactor systems.
Representative, Reproducible Results
More high-quality data points per experiment
Automated sampling is a key enabler for reaction understanding as it eliminates sampling error and ensures that offline analytical results truly represent the reaction as it exists under process conditions.
Representative, reproducible results are achieved by:
Sampling from the same position in the reactor, at reaction conditions
Time-stamped samples—circumvent errors caused by variances in recordkeeping. Data can be easily combined with results from inline PAT-based analytical methods.
Automatic and seamless data collection—increase the number of samples and data quality that also supports data-rich experimentation
Limit Exposure to Hazardous Chemistry
When working in the laboratory, scientists are potentially exposed to hazardous chemicals and are at risk of injury.
When taking samples manually using traditional sampling tools, the operator needs to open the reactor which can be exposed to toxic materials at elevated temperatures or pressures.
EasySampler automated reactor sampling system reduces the need for manual handling and exposure to hazardous chemicals, reducing risks and improving user safety.
EasySampler—Critical for Data Rich Experimentation
Expand Your Capabilities
With the connectivity kit, EasySampler sampling data is automatically transferred to, and reported with, the referring automated reactor system.
Increase automation capabilities and improve productivity by combining automated sampling with synthesis reactors. All data from every connected instrument is collected at the end of an experiment. Data is stored in a common location with optional email notifications with links to files for each experiment.
Automated Chemical Sampling Resources
Unattended, Representative Sampling of a Wide Range of Chemical Reactions
Tips and tricks for automated sampling, including set-up, probe introduction, data management and sampling for different types of reactions.
Automated Chemical Sampling Systems in Journal Publications
Continued automated sampling with the EasySampler supports reaction and impurity profiling studies. A list of publications from peer-reviewed journals focuses on exciting and novel applications of EasySampler by researchers in both academia and industry to support data-rich experimentation to advance their research.
Kukor, A. J., St-Jean, F., Stumpf, A., Malig, T. C., Piechowicz, K. A., Kurita, K., & Hein, J. E. (2023c). Guided optimization of a Crystallization-Induced diastereomer transformation to access a key navoximod intermediate. Reaction Chemistry and Engineering, 8(6), 1294–1299. https://doi.org/10.1039/d3re00077j

Kukor, A. J., Depner, N., Cai, I., Tucker, J. V., Culhane, J. C., & Hein, J. E. (2022). Enantioselective synthesis of (−)-tetrabenazine via continuous crystallization-induced diastereomer transformation. Chemical Science, 13(36), 10765–10772. https://doi.org/10.1039/d2sc01825j
Lomont, J. P., Ralbovsky, N. M., Guza, C., Saha-Shah, A.,...
Show more
Continued automated sampling with the EasySampler supports reaction and impurity profiling studies. A list of publications from peer-reviewed journals focuses on exciting and novel applications of EasySampler by researchers in both academia and industry to support data-rich experimentation to advance their research.
Kukor, A. J., St-Jean, F., Stumpf, A., Malig, T. C., Piechowicz, K. A., Kurita, K., & Hein, J. E. (2023c). Guided optimization of a Crystallization-Induced diastereomer transformation to access a key navoximod intermediate. Reaction Chemistry and Engineering, 8(6), 1294–1299. https://doi.org/10.1039/d3re00077j

Kukor, A. J., Depner, N., Cai, I., Tucker, J. V., Culhane, J. C., & Hein, J. E. (2022). Enantioselective synthesis of (−)-tetrabenazine via continuous crystallization-induced diastereomer transformation. Chemical Science, 13(36), 10765–10772. https://doi.org/10.1039/d2sc01825j
Lomont, J. P., Ralbovsky, N. M., Guza, C., Saha-Shah, A., Burzynski, J., Konietzko, J., Wang, S.-C., McHugh, P. M., Mangion, I., & Smith, J. P. (2022). Process monitoring of polysaccharide deketalization for vaccine bioconjugation development using in situ analytical methodology. Journal of Pharmaceutical and Biomedical Analysis, 209, 114533. https://doi.org/10.1016/j.jpba.2021.114533
Ashworth, I. W., Frodsham, L., Moore, P., & Ronson, T. O. (2021). Evidence of Rate Limiting Proton Transfer in an SNAr Aminolysis in Acetonitrile under Synthetically Relevant Conditions. The Journal of Organic Chemistry. https://doi.org/10.1021/acs.joc.1c01768
Kukor, A. J., Guy, M. A., Hawkins, J. M., & Hein, J. E. (2021). A robust new tool for online solution-phase sampling of crystallizations. Reaction Chemistry and Engineering, 6(11), 2042–2049. https://doi.org/10.1039/d1re00284h

Pollack, S. R., & Dion, A. (2021). Metal-Free Stereoselective Synthesis of (E)- and (Z)-N-Monosubstituted β-Aminoacrylates via Condensation Reactions of Carbamates. The Journal of Organic Chemistry, 86(17), 11748–11762. https://doi.org/10.1021/acs.joc.1c01212
Zhao, X., Webb, N. J., Muehlfeld, M. P., Stottlemyer, A. L., & Russell, M. W. (2021). Application of a Semiautomated Crystallizer to Study Oiling-Out and Agglomeration Events—A Case Study in Industrial Crystallization Optimization. Organic Process Research & Development, 25(3), 564–575. https://doi.org/10.1021/acs.oprd.0c00494
Jurica, J. A., & McMullen, J. P. (2021). Automation Technologies to Enable Data-Rich Experimentation: Beyond Design of Experiments for Process Modeling in Late-Stage Process Development. Organic Process Research & Development, 25(2), 282–291. https://doi.org/10.1021/acs.oprd.0c00496
Malig, T. C., Yunker, L. P. E., Steiner, S., & Hein, J. E. (2020). Online High-Performance Liquid Chromatography Analysis of Buchwald–Hartwig Aminations from within an Inert Environment. ACS Catalysis, 10(22), 13236–13244. https://doi.org/10.1021/acscatal.0c03530
Malig, T. C., Tan, Y., Wisniewski, S. R., Higman, C. S., Carrasquillo-Flores, R., Ortiz, A., Purdum, G. E., Kolotuchin, S., & Hein, J. E. (2020). Development of a telescoped synthesis of 4-(1H)-cyanoimidazole core accelerated by orthogonal reaction monitoring. Reaction Chemistry & Engineering, 5(8), 1421–1428. https://doi.org/10.1039/d0re00234h
Wang, K., Han, L., Mustakis, J., Li, B., Magano, J., Damon, D. B., Dion, A., Maloney, M. T., Post, R., & Li, R. (2019). Kinetic and Data-Driven Reaction Analysis for Pharmaceutical Process Development. Industrial & Engineering Chemistry Research, 59(6), 2409–2421. https://doi.org/10.1021/acs.iecr.9b03578
Beutner, G. L., Coombs, J. R., Green, R. A., Inankur, B., Lin, D., Qiu, J., Roberts, F., Simmons, E. M., & Wisniewski, S. R. (2019). Palladium-Catalyzed Amidation and Amination of (Hetero)aryl Chlorides under Homogeneous Conditions Enabled by a Soluble DBU/NaTFA Dual-Base System. Organic Process Research & Development, 23(8), 1529–1537. https://doi.org/10.1021/acs.oprd.9b00196
Huffman, M. A., Fryszkowska, A., Alvizo, O., Borra-Garske, M., Campos, K. R., Canada, K. A., Devine, P. N., Duan, D., Forstater, J. H., Grosser, S. T., Halsey, H. M., Hughes, G. J., Jo, J., Joyce, L. A., Kolev, J. N., Liang, J., Maloney, K. M., Mann, B. F., Marshall, N. M., & McLaughlin, M. (2019). Design of an in vitro biocatalytic cascade for the manufacture of islatravir. Science, 366(6470), 1255–1259. https://doi.org/10.1126/science.aay8484
Mennen, S. M., Alhambra, C., Allen, C. L., Barberis, M., Berritt, S., Brandt, T. A., Campbell, A. D., Castañón, J., Cherney, A. H., Christensen, M., Damon, D. B., Eugenio de Diego, J., García-Cerrada, S., García-Losada, P., Haro, R., Janey, J., Leitch, D. C., Li, L., Liu, F., Lobben, P. C., MacMillan, D. W. C., Magano, J., McInturff, E., Monfette, S., Post, R. J., Schultz, D., Sitter, B., Stevens, J. M., Strambeanu, I. I., Twilton, J., Wang, K., & Zajac, M. A. (2019). The Evolution of High-Throughput Experimentation in Pharmaceutical Development and Perspectives on the Future. Organic Process Research & Development, 23(6), 1213–1242. https://doi.org/10.1021/acs.oprd.9b00140
Carter, H. L., Connor, A. W., Hart, R., McCabe, J., McIntyre, A. C., McMillan, A. E., Monks, N. R., Mullen, A. K., Ronson, T. O., Steven, A., Tomasi, S., & Yates, S. D. (2019). Rapid route design of AZD7594. Reaction Chemistry & Engineering, 4(9), 1658–1673. https://doi.org/10.1039/c9re00118b
Zawatzky, K., Grosser, S., & Welch, C. J. (2017). Facile kinetic profiling of chemical reactions using MISER chromatographic analysis. Tetrahedron, 73(33), 5048–5053. https://doi.org/10.1016/j.tet.2017.05.048
Gurung, S. R., Mitchell, C., Huang, J., Jonas, M., Strawser, J. D., Daia, E., Hardy, A., O'Brien, E., Hicks, F., & Papageorgiou, C. D. (2016). Development and Scale-up of an Efficient Miyaura Borylation Process Using Tetrahydroxydiboron. Organic Process Research & Development, 21(1), 65–74. https://doi.org/10.1021/acs.oprd.6b00345
Rougeot, C., Situ, H., Cao, B. H., Vlachos, V., & Hein, J. E. (2017). Automated reaction progress monitoring of heterogeneous reactions: crystallization-induced stereoselectivity in amine-catalyzed aldol reactions. Reaction Chemistry & Engineering, 2(2), 226–231. https://doi.org/10.1039/c6re00211k
Duan, S., Place, D., Perfect, H. H., Ide, N. D., Maloney, M., Sutherland, K., Price Wiglesworth, K. E., Wang, K., Olivier, M., Kong, F., Leeman, K., Blunt, J., Draper, J., McAuliffe, M., O'Sullivan, M., & Lynch, D. (2016). Palbociclib Commercial Manufacturing Process Development. Part I: Control of Regioselectivity in a Grignard-Mediated SNAr Coupling. Organic Process Research & Development, 20(7), 1191–1202. https://doi.org/10.1021/acs.oprd.6b00070
Malig, T. C., Koenig, J. D. B., Situ, H., Chehal, N. K., Hultin, P. G., & Hein, J. E. (2017). Real-time HPLC-MS reaction progress monitoring using an automated analytical platform. Reaction Chemistry & Engineering, 2(3), 309–314. https://doi.org/10.1039/c7re00026j
Nykaza, T. V., Ramirez, A., Harrison, T. S., Luzung, M. R., & Radosevich, A. T. (2018). Biphilic Organophosphorus-Catalyzed Intramolecular Csp2–H Amination: Evidence for a Nitrenoid in Catalytic Cadogan Cyclizations. Journal of the American Chemical Society, 140(8), 3103–3113. https://doi.org/10.1021/jacs.7b13803
Show less