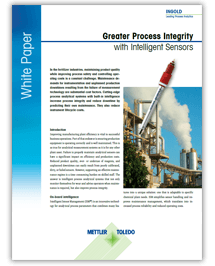 White Paper: Greater Process Integrity
In the fertilizer industries, maintaining product quality while improving process safety and controlling operating costs is a constant challenge. Maintenance demands for instrumentation and unplanned production downtimes resulting from the failure of measurement technology are substantial cost factors. Cutting-edge process analytical systems with built-in intelligence increase process integrity and reduce downtime by predicting their own maintenance. They also reduce instrument lifecycle costs.
Find out in our latest white paper:
Why modern process analytics equipment with Intelligent Sensor Management (ISM®) is highly reliable.
How ISM can be tailored to your requirements and simplifies sensor maintenance.
How ISM's predictive diagnostics features can be integrated into your process control system.