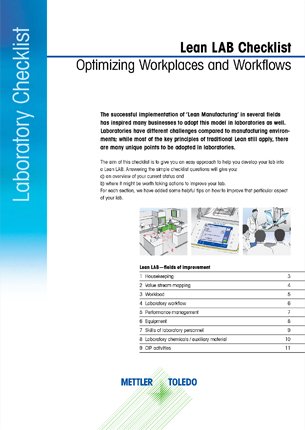 Lean Laboratory Checklist
The Lean Laboratory Checklist is a useful tool for lab managers and lab personnel. It will guide you through assessing the current status of your lab and help you to identify where actions could be taken to make processes leaner and more efficient.
A Lean Laboratory approach can deliver significantly increased productivity, reduced lead times, lower costs, improved "right first time," and a better understanding of capacity and resource requirements.
The checklist is divided into nine improvement areas:
1.    Housekeeping
2.    Value stream mapping
3.    Workload
4.    Laboratory workflow
5.    Performance management
6.    Equipment
7.    Skills of laboratory personnel
8.    Laboratory chemicals / auxiliary material
9.    CIP (continuous improvement processes)
In each section, there are some helpful tips on how to improve that particular aspect of your lab.

Simply enter your details below to download your free checklist and start improving your lab efficiency today!