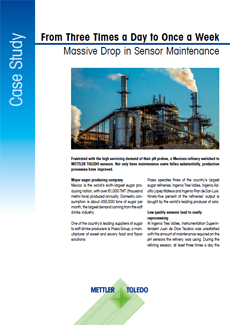 Sensor maintenance
Piasa Group is one of Mexico's leading producers of sugar and soft drinks. They manufacture sweet and savory food and flavor solutions. Piasa was frustrated with the high servicing demand of their pH probes. During their high season, at least three times a day the sensors would have to be pulled from the process for calibration or cleaning. Sensor failure and replacement was also an issue. They came across METTLER TOLEDO sensors and after testing the InPro 4881i pH sensor experienced not only a substantial reduction of maintenance costs but also improved production processes.
METTLER TOLEDO's InPro 4881i pH sensor is designed to tolerate harsh processes. Further, the sensor is equipped with METTLER TOLEDO's Intelligent Sensor Management (ISM) digital technology. ISM features predictive diagnostics including an adaptive calibration timer and dynamic lifetime indicator. Knowing when sensor calibration and replacement should be performed is key in ensuring process analytical equipment is performing accurately.
Download the case study to read the full details including the following topics:
Low quality sensors lead to costly reprocessing
Process-tolerant and intelligent sensors
Achieve greater confidence in measurements
 
With time-based sensor maintenance you may be replacing pH sensors too early or too late, and you may be calibrating when it is not necessary. With predictive maintenance, ISM diagnostics tell you in advance when a pH sensor will need to be calibrated or replaced, based on key factors including process temperature and pH, and sensor slope.