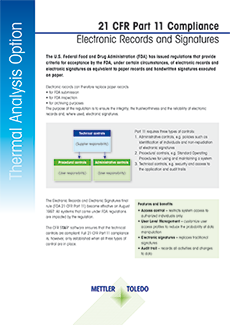 Datasheet: STARe Software Option 21 CFR 11 Compliance
The Electronic Records and Electronic Signatures final rule (FDA 21 CFR Part 11) became effective on August 1997. All systems that come under FDA regulations are impacted by the regulation.
The CFR STARe software ensures that the technical controls are compliant. Full 21 CFR Part 11 compliance is, however, only established when all three types of control (Administrative control, procedural control and technical control) are in place.
Features and Benefits
Access control – restricts system access to authorized individuals only
User Level Management – customize user access profiles to reduce the probability of data manipulation
Electronic signatures – replaces traditional signatures
Audit trail – records all activities and changes to data